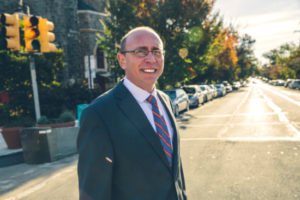 Lawyer and West Philadelphia resident Jeff Curry announced this week that he is running for state representative in Pennsylvania's 188th district as a Democrat in the May 15 primary. The announcement was made on Jan. 1 at the University City Arts League, where he addressed the crowd of over one hundred and fifty supporters, according to a press release.
The seat has been held by State Rep. James Roebuck since 1985.
Curry has been a resident of this district for the last decade. He and his wife Angela first moved to the district in 2007 to start and raise a family in the community. A father of three young children, Curry is running for office because he feels "Harrisburg does not reflect his family's values of hard work, respect others, and equality and fairness for all." 
Curry earned his B.S. from St. Joseph's University and his J.D. from Temple Law School. After graduating from Temple Law, Curry was hired as an associate at the law firm of Ballard Spahr LLP. He then went to the City of Philadelphia's Law Department, leaving there in 2013. Curry later worked at a small firm representing individuals unfairly treated by corporations and insurance companies.
"We deserve a government that will represent everyone and not just the wealthy," Curry said during his speech at UC Arts League. "We deserve a government that invests in our collective future by providing great public schools, quality and affordable healthcare, and job opportunities that pay a living wage."
More information about Curry is available on his campaign website – www.voteforjeffcurry.com and on his Facebook page.