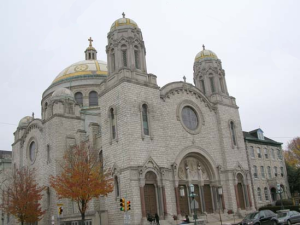 Saint Francis de Sales Church is an architectural landmark in West Philadelphia that recently celebrated its 125th anniversary. On Wednesday, Dec. 13, 7 p.m., the public is invited to a Candlelight Christmas concert, proceeds from which will go towards the ongoing renovation of the church.
The Choir of St. Francis de Sales, under the direction of Isabel Boston, will be presenting a program of Christmas choral music in a candlelit sanctuary, featuring works by Biebl, Holst, Palestrina, and others – along with some of the usual seasonal favorites.
The theme this year is most light, as the concert falls on the feast of St. Lucy–in many northern European countries, she's associated as the "bearer of light" in the winter darkness. Besides the choir, there will also be a few children from the parish congregation performing several pieces. Entrance is through the front doors at 4625 Springfield Avenue. 
A light BYO and dessert reception (and sing-along) will follow immediately after the concert.
All the funds raised from the suggested donations ($5) are directed toward architectural renovations and the aging lighting system, which needs significant work. SFDS albums on vinyl and Christmas ornaments will be on sale. Proceeds from last year's concert were enough to convert many of the pendant lamps to LEDs and install better exterior lighting.