This holiday season, we'll be sharing information on how community members can give back and help those in need.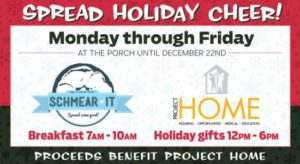 University City District has just launched a new holiday pop-up at The Porch at 30th Street Station, which will run through Dec. 22. The pop-up is a collaboration between UCD, Project HOME and Schmear It and contributes to the fight against homelessness in Philadelphia.
From noon to 6 p.m. on weekdays, Project HOME will run a holiday shop selling items made by Project HOME residents. The HOME shop offers homemade candles, homemade soaps, and holiday cards with artwork created by Project HOME residents. The shop is a part of a social enterprise where the residents earn income from the sale of their unique items. This pop-up is an ongoing partnership between UCD and Project HOME. 
In addition to the HOME shop, the popular Schmear It food truck will offer bagels, coffee, and custom spreads. They will also offer a special Sister Mary Cranberry "schmear", based on Project HOME's founder Sister Mary Scullion's recipe, 'Sinfully Delicious Cranberry Sauce.' Five percent of Schmear It's profits will go to Project HOME.
Project HOME has been fighting homelessness in the city for almost 30 years by providing housing, street outreach, healthcare and recovery, advocacy and many other services. To learn more about Project HOME and how else you can help, go to: projecthome.org.