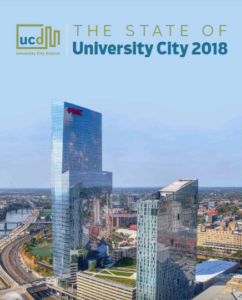 The University City District released its annual "State of University City" report on Thursday night. It shows what most of us already know: home prices are up; new retail spots are opening left and right; and the population is growing and getting younger.
UCD roughly defines "University City" as the area bounded by the Schuylkill River to the east, 50th Street to the west, Market Street/Powelton Avenue/Spring Garden Street to the north and Woodland Avenue/University Avenue to the south.
Here's what the report, which covers trends through 2016, shows in key areas:
Real Estate Development
During 2016, 28 projects were either completed or made significant strides toward completion. These include academic, commercial, medical and residential projects. Curbed Philly has a handy map with many of the new projects covered in the report. 
The Spruce Hill neighborhood saw the largest jump in home sales last year and the media home price in the University City area was just under $400,000. Rents continue to climb too. The median rent in Walnut Hill (from Spruce to Market and 45th to 52nd) is more than $1,500, which is about the average across University City.
Employment
Jobs in the University City District area that pay more than $40,000 per year, which include Drexel, the University of Pennsylvania and the University of the Sciences, are far outpacing the rest of Philadelphia, according to the report. About 80 percent of the jobs are in education and healthcare. The University of Pennsylvania, Penn Medicine and the Children's Hospital of Philadelphia (CHOP) combined account for most of those jobs.
Retail
Retail growth has leveled off over the past few years, while the increase in restaurants has continued to increase, according to the report.
Transportation
About 30 percent of commuters to University City jobs walked, nearly four times higher that Philadelphia as a whole. About 8 percent rode a bike, four times higher than the city average. Bike sharing has found traction in the area as well. Four of the top six "most frequent one-way trips" using bike share were to University City stations, according to the report.
Population
The population of University City is getting younger, according to the report. There are an estimated 5,300 more residents than in 2010. The number of millennials (ages 20-34) is up 13 percent since 2000.
To view the electronic version of the report, click here. You can also pick up a physical copy at UCD office at 3940 Chestnut Street.