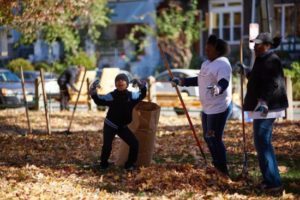 "Love Your Park" Fall Service Day has been scheduled for Saturday, Nov. 4 with thousands of volunteers stepping outside to help clean and prep city parks for winter. There are many beautiful parks in West Philly that need volunteer help as well this Saturday.
Cedar Park Neighbors' Park Committee is looking for a few volunteers for Love Your Park Service Day from 10 a.m. to 1 p.m.: "Come out to meet your neighbors, enjoy the cool fall weather, and help beautify Cedar Park! No gardening experience is necessary. Gloves, tools, and refreshments will be provided." Walk-ins are welcome, but advance registration is helpful. RSVP by e-mailing contact@cedarparkneighbors.org
Fall cleanups will also take place in Clark Park (43rd and Chester), Barkan Park (50th and Spruce), Saunders Park (39th and Powelton), Malcolm X Park (51st and Pine), and other local parks. Check out the map of parks here and register to volunteer here. Registration closes Friday, Nov. 3 at noon.