We have compiled some exciting news and updates from local restaurants and coffee shops.
Renata's Kitchen Now Offers Catering
Renata's Kitchen has been serving brunch and dinner at 46th and Baltimore since Fall 2015, and this fall, the popular restaurant has released a new, "organized" catering menu. The restaurant has done some catering in the past, but the new menu serves the purpose of bringing this additional service to the front, especially around the holiday time.
"… our catering menu is just the start, we're happy to accommodate special requests, or themed parties," writes Renata's co-owner Katie Aiq. "We did an order recently for a client specializing in Chilean food – possibly my favorite day at work ever. Don't be shy, even if you've never seen us do anything like it before, we can probably work something out." 
Renata's Fall Catering Menu includes classic sandwich lunches, à la carte sandwich trays and salads, party trays, and more.
Atiya Ola's Moves to 48th and Pine
Here's very exciting news from Atiya Ola's, the vegan, vegetarian and raw foods restaurant that was recently forced to close their Baltimore Avenue location. The restaurant was able to find a new location nearby, at 310 S. 48th St., and already had a soft opening. A grand re-opening of the restaurant, now called Atiya Ola's Spirit First Foods, is scheduled for Saturday, Nov. 4, 1 – 9 p.m.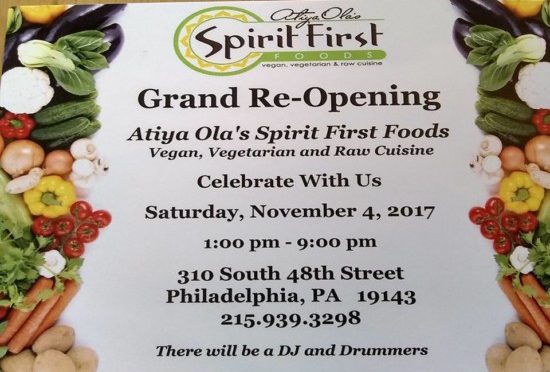 Jezabel's Studio Offers Cooking Lessons, Hosts Events
Jezabel's Studio, the Argentinian cafe that opened on 45th near Walnut in July, is now offering cooking lessons, in addition to coffee, tea, signature empanadas, cookies and kitchen-focused household items. Monthly cooking classes, or "Clases de Cocina" launched last month, and the first event was a success. Jezabel's next workshop will be held on Wednesday, Nov. 1 from 6:30 p.m. to 7:30 p.m. Owner Jezabel Careaga will demo one of her favorite go-to dishes: Salsa Criolla. Go to Jezabel's website for more information and to sign up. On Saturday, Nov. 11, there is an opportunity to meet West Philly writers Christine Kendall and Matthew Jakubowski at Jezabel's. The event begins at 3 p.m. Here's a flyer with more information.