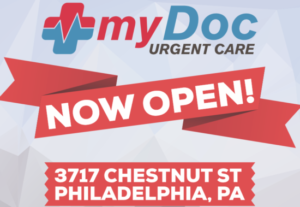 myDoc Urgent Care provides both urgent care and primary care services for patients ranging from toddlers (18 months) to adults. The clinic opened its doors to visitors less than a year ago at 3717 Chestnut St. With onsite xRay, lab testing, and prescription medication, the clinic treats all routine illness and injuries.
What Is Urgent Care?
Before you find yourself sitting for hours in a hospital emergency room and end up with expensive medical bills, here are some things you should know when you or a family member need immediate medical care. You should first contact your primary care physician (PCP), who is your gateway to finding the most appropriate type of care. If your doctor is not available, or if you can't meet with your doctor when you need medical care, you may choose to visit an urgent care center. 
Normally, urgent care centers are open for extended hours and are available on a first-come, first-serve basis, no appointment is necessary.
Urgent Care centers are set up to assist patients with an illness or injury that does not appear to be life-threatening, but also can't wait until the next day, or for primary care doctor to see them. For the days and hours that primary care physicians are closed, or for someone who does not have a primary care physician, urgent care centers provide easy access to quality healthcare without the hassle and expense of emergency room.
Urgent medical conditions are ones that are not considered emergencies but still require care within 24 hours. Some examples of such conditions include:
* Accidents & falls
* Cough, colds, running nose
* Sprains & strains
* Sore throat / swelling
* Moderate back problems
* Minor broken bones / fractures
* Minor cuts and bleeding
* Skin rashes and infection
* Eye irritation / redness
* Urinary tract infections
Life-threatening emergencies, such as a heart attack or a serious head injury, require a visit to the Emergency Department.
What Is Primary Care?
Primary care is care provided by physicians (PCP) specifically trained for and skilled in comprehensive, preventative, and continuing care. Primary care includes health promotion, disease prevention, health maintenance, counseling, patient education, diagnosis and treatment of acute and chronic illnesses in an outpatient setting.
Does My Health Plan Cover Urgent Care or ER Visit?
Many people worry that urgent care centers might be more expensive than emergency rooms or traditional medical care. However, this is simply not the case. Here is a brief rundown of the expenses patients will face in all three settings:
Visiting an emergency room is very expensive. The average price that will be charged is $1,300, plus the cost of an ambulance ride if necessary ($400-$1,200). The average urgent care visit will cost $120-150 (urgent care copays can be even less). The base price of a visit is added to the cost of extra services, such as x-rays, injections, medications, and casting bones.
Primary care physicians have a set office visit price, which generally ranges from $100-300 depending upon your area and their specialties.
ACCEPTED INSURANCE:
Independence Blue Cross
AmeriHealth
Independence Administrators
Keystone Plan East
All Blue Cross Blue Shield
United HealthCare
CIGNA
Aetna
Tricare
Humana
MultiPlan
Medicare
Keystone First
HealthPartners
Aetna BetterHealth
ISO International
Get A Flu Shot at myDoc
myDoc Urgent Care invites the public to get a flu shot at their facility at 3717 Chestnut St. The clinic will bill your insurance company for this service.
myDoc Urgent Care Hours:
Monday through Friday, 9 a.m. to 7 p.m.; Saturday and Sunday 10 a.m. to 3 p.m. The clinic is closed on major holidays. Walk-in,  seven days a week; Web Check-in is available at: https://www.mydocuc.com.
Visit the myDoc Urgent Care website for more information or call 215-921-8294.