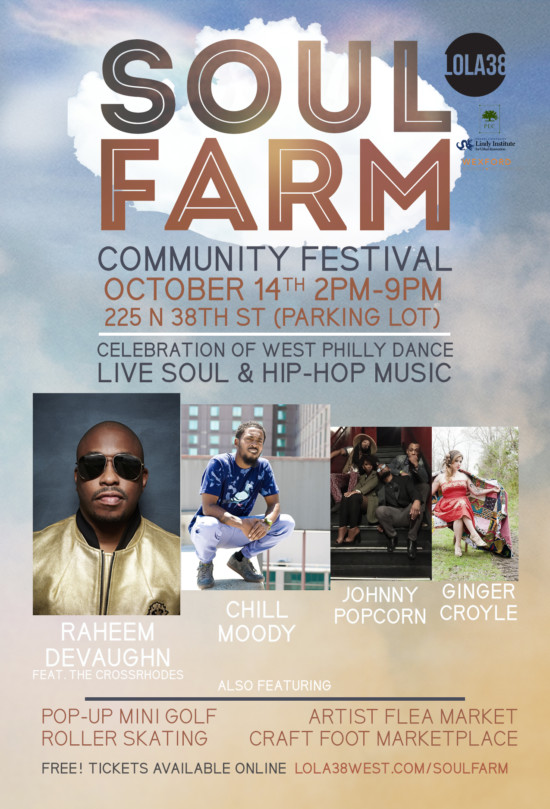 Everyone is invited to a free, 7-hour long community festival, Soul Farm, this Saturday (Oct. 14) to celebrate "the rich arts, culture, and community along Lancaster Avenue and throughout West Philadelphia." The festival is a closing celebration of LoLa 38, a creative placemaking collaboration that has been encouraging civic conversation through art installations and community gatherings throughout the year.
Thanks to LoLa 38, two Lower Lancaster Avenue properties undergoing transformation – the former United Bank building and the site of the former University City High School building – were adorned with art pieces created by local artists from May to September.
The festival will take place from 2 p.m. to 9 p.m. at 225 N. 38th St. (LAZ Parking Lot) and will feature local food, art, and music and dance performances. 
A Celebration of West Philly Dance will kick off the festival and feature West Philly-based dance companies:
Gwendolyn Bye Students & Fusion 2
Kulu Mele African Dance & Drum Ensemble
Philadanco: Danco 2
Pitch
Just Sole Street Dance Theater
Raphael Xavier
Revlock/Ramirez/Ingram Trio
Tap Team Two
Soul Farm closes with a hip-hop and soul concert featuring national and local performing artists: Raheem DeVaughn (neo-soul singer), West Philly based hip-hop artist Chill Moody, Johnny Popcorn (Philadelphia-based "rock band with a lot of soul"), and soul artist Ginger Coyle.
The festival will also feature all-ages activities, such as a pop-up roller skating rink, mini-golf, a video game trailer, face painting, and Fleischer Color Wheel.
And last but not least, Soul Farm organizers are inviting guests to do some local shopping at the Craft Food Marketplace and Artist Flea Market during the festival.
Admission is free, but tickets are required. Go here to get your free ticket.