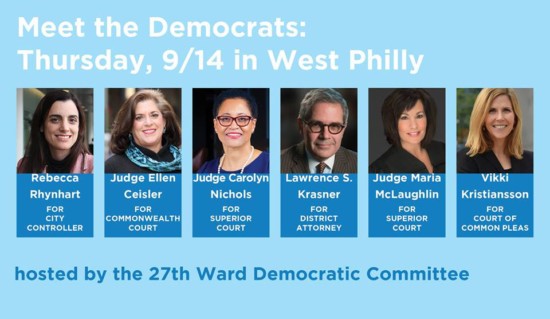 The Philadelphia general election is on November 7, and here's an opportunity for West Philly residents to meet some of the Democratic candidates, including Larry Krasner, Philadephia District Attorney. A Democratic Candidates' Night, organized by the 27th Ward Democratic Committee, will be held Thursday, Sept. 14, at University of the Sciences (Rosenberger Hall, 600 S. 43rd St). 
The following candidates will also participate in the forum:
Carolyn Nichols, PA Superior Court
Vikki Kristiansson, PA Court of Common Pleas
Rebecca Rhynhart, City Controller
Ellen Ceisler, PA Commonwealth Court
Maria McLaughlin, PA Superior Court
One of the issues to be discussed at the meeting is gerrymandering, which is a big issue in Pennsylvania.
Members of the public are invited and encouraged to bring their questions and concerns.
The event begins at 7:00 p.m.