The city is now officially seeking a developer for the Provident Mutual Life Insurance complex at 4601 Market St., several months after the Kenney administration scuttled plans to move the police administration to the site.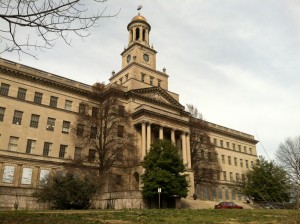 The Philadelphia Industrial Development Corporation issued a "Request for Qualifications and Expressions of Interest" today that seeks potential developers for the 15-acre property adjacent to the Market-Frankford Line's 46th Street stop. The city hopes to assemble a short list of interested developers this fall and then open a competitive bidding process. Proposals for the first phase are due Nov. 1.
The property is zoned CMX-3, which allows a wide variety of uses – from a community garden to an apartment building to a hospital. The complex includes a 325,000-square-foot administration building and a 11,200-square-foot utility plant. 
The goal of the request published today is "to select potential experienced, capable and qualified development companies that will ultimately plan and implement a dynamic and sustainable development that significantly enhances and complements the existing cultural, commercial and residential developments of West Philadelphia and to maximize the value of the Property for the City," according to the document.
In May, the city canceled plans devised during the Nutter administration to relocate the police headquarters. Instead, it will reportedly move to the former Philadelphia Inquirer building at 400 N. Broad St. The city has spent about $50 million to purchase and renovate the 90-year-old Provident building.
You can read the full request for qualifications here.