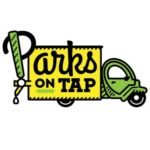 Parks on Tap, a traveling beer garden concept created last summer by Philadelphia Parks & Recreation in partnership with Fairmount Park Conservancy and FCM Hospitality, is returning to Clark Park tonight and will stay through Sunday, Aug. 27. Then, it will reopen for a second week, from Wednesday, Aug. 30 – Monday, Sept. 4.
Here are the hours of operation for this and next week:
Wednesday & Thursday: 5-10 p.m.
Friday & Saturday: 1-11 p.m.
Sunday: 12-10 p.m.
Monday, Sept. 4 (Labor Day): 12-10 p.m. 
More information is available here.
Also, if you're visiting the park this or next Friday, check out the Free Movies in Clark Park program by University City District. Moana will be screening this Friday, Aug. 25, and Fantastic Beasts and Where To Find Them on Friday, Sept. 1, both beginning at 8 p.m.