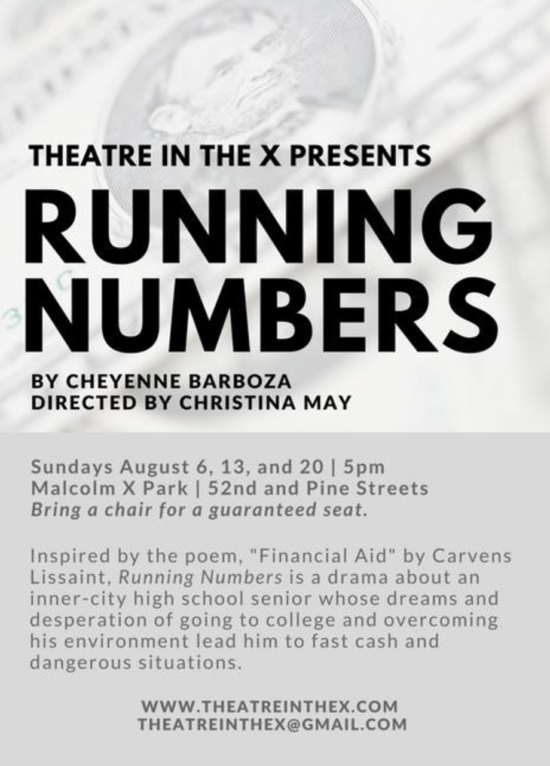 Some of the best – and probably the most intimate – theatre in the city gets underway in Malcolm X. Park (51st and Pine) next week when Theatre in the X opens the world premiere of Running Numbers.
Running Numbers is a drama about a high school senior "whose dreams and desperation of going to college and overcoming his environment lead him to fast cash and dangerous situations." The work is inspired by  "Financial Aid", an incredible spoken work piece by Carvens Lissaint.
Cheyenne Barboza wrote Running Numbers and Christina May directs. The cast includes Abdul Sesay, Jarrett McCreary, Khadijah Davis, Iman Aaliyah, Aurica Hurst, Angelica Jackson-Thomas, Carlo Campbell, Walter DeShields, Niya Colbert, Brandon A. Drummond and Dwayne Alistair Thomas. 
Theatre in the X brings professional, African American written, directed and cast theater to the neighborhood at no cost.
"By removing the barriers of location and price the audience is able to experience theater that they possibly would not be able to access otherwise," according to the company's website.
The play runs about 80 minutes and performances are scheduled for Aug. 6, 13 and 20 beginning at 5 p.m. Bring a chair to make sure you get a seat. Two additional shows will take place Sept. 15 at 7 p.m. and Sept. 16 at 3 p.m. at the United Bank Building, 3750 Lancaster Ave.
Support for Theatre in the X in part comes from the Philadelphia Cultural Fund, Pennsylvania Council on the Arts and the National Endowment for the Arts.