Shakespeare in Clark Park returns this week for its 12th season with five performances of Coriolanus, a timeless political tragedy of manipulation and revenge. This year, SCP will roll with an all-female cast led by Barrymore Award winner Charlotte Northeast as the title character. The professional cast of women warriors will appear alongside a Chorus of 50 Philadelphians who will become the riotous citizens of Rome. The production is directed by SCP Artistic Director Kittson O'Neill (Interact Theatre Company).
"It's easy to see Coriolanus, a blunt war hero, as an indictment of "Macho" culture, but there is so much more to this story," O'Neill, who is pulling double-duty as the director of the show, said in a statement. "By moving our production to a matriarchy I think audiences will more readily see themselves in our hero: we can all be inflexible, we all have deep prejudices and we don't always get the glory we have rightly earned."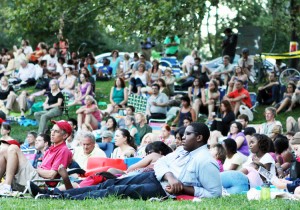 Over the past four years, SCP has expanded its practice of Radical Community Engagement, bringing community members on-stage with professional actors each year. This year, the practice was expanded to include free acting workshops held in the fall and winter. It all began with SCP's 2014 production of Henry IV: Your Prince and Mine where a 100-person army stormed the Bowl at Clark Park.
Charlotte Northeast (Coriolanus) is joined by her fellow noble Romans Judith Lightfoot Clarke (Volumnia), Kimberly Fairbanks (Menenius), D'Arcy Dersham (Cominius) and opposed by the tribunes of the people Hannah Gold (Brutus) and Ashley Spearman (Sicinius). The cast is filled out by Emily Kaye Lynn (Aufidius), Angelica Jackson-Thomas (Valeria), Christina May (First Citizen), Brandi Burgess (Volscian Lieutenant), Iman Aaliyah (Titus Lartius), Chelsea-Anne Jones (Virgilia), Alexandra Palting (Roman Solider), and Ciera Gardner (Volscian Soldier).
Rounding out the creative team are Carly Bodnar (Chorus Director), D'Vaughn Agu (Scenic Design), Natalia de la Torre (Costume Design), Drew Biliau (Lighting Design), and Robert Kaplowitz (Sound Design).
Coriolanus runs July 26-30. All performances are free and are at 7 p.m. in "the Bowl" of Clark Park, located near the intersection of Chester Avenue and 43rd Street. The rain location is the Harold Prince Theater at the Annenberg Cneter for the Performing Arts, 3680 Walnut Street, University of Pennsylvania.
For more information, visit shakespeareinclarkpark.org.