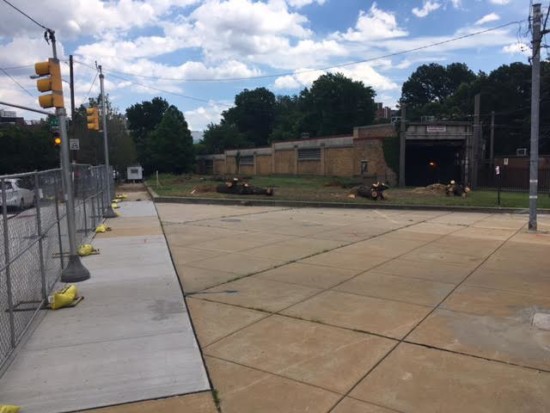 The much anticipated construction of Trolley Portal Gardens, the project that will include a remodeled 40th Street Trolley portal, a public space and a restaurant, has begun. Philadelphia general contractor Domus will begin excavating the building foundation as early as the end of this week, according to Chris Richman, Communication Manager for University City District.
The work will spread to a larger area, called "the apron," after the Trolley Tunnel Blitz concludes in mid-July.
The groundbreaking ceremony for Trolley Portal Gardens was held in December 2016, but it took some time to obtain necessary building permits. The last remaining permits were finalized earlier this month, according to the project website. 
At the center of the project, spearheaded by University City District, is a two-story restaurant, called Trolley Car Station. It will be built in the grassy area bordering the portal along Baltimore Avenue. A company owned by real estate developer Ken Weinstein, which runs the Trolley Car Diner in Mount Airy, will operate the restaurant.
The construction of the new restaurant and public space will take approximately 10 months, during which trolley service and pedestrian access to the portal will not be disrupted.
For more information, renderings and updates on the project, visit: http://www.universitycity.org/portalgardens.