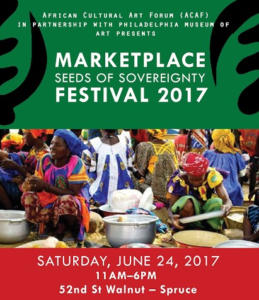 Community members are invited to celebrate the 52nd Street corridor's historic legacy and to support Black owned and operated businesses at the Marketplace "Seeds of Sovereignty" Festival. The festival will be held on Sunday, June 25, 11 a.m.-6 p.m. (the event has been rescheduled due to rain in the forecast for Saturday), between Walnut and Spruce Streets and will feature vendors, a children's village, performances, food, fashion shows, and workshops.
One of the goals of the festival, organized in collaboration with the African Cultural Art Forum (ACAF), Philadelphia Assembled Collaborative, Philadelphia Association of CDC's and the Philadelphia Museum of Art, is to set the stage for collaborations that will promote a sovereign society and to engage sustainable economic development opportunities in West Philadelphia and around the world. 
The program will open with a drumming ceremony, and honorees include ACAF and Louis Massiah, a filmmaker and Scribe Video Center's Executive Director, special presentations from local community leaders and other notables. Exhibitions and guided tours of local art and cultural institutions will take place throughout the day. This is a family-friendly event, free and open to the public.
For more information about this event, visit: http://www.acaf.us.