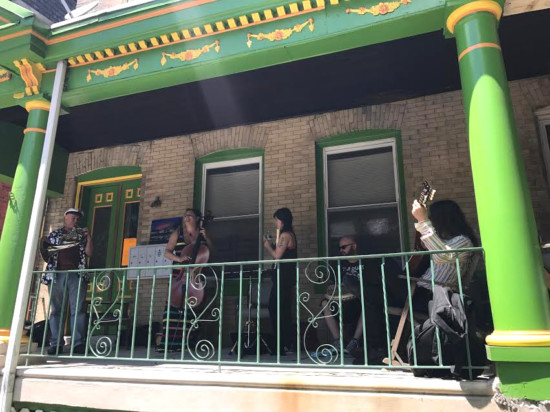 It's Saturday morning and the weather's beautiful so you have your windows open. You're rolling out of bed and you hear music coming in from the streets. It's a lazy morning but you walk outside anyway because the weather's perfect. You notice scattered clusters of crowds listening to music around a porch here and a porch there. A man comes out of his house with a pastry and a coffee, he's sitting on his porch while enjoying a live band playing on his neighbor's porch. It's that time of year again, it's West Philly Porchfest. Even though the official start time was at noon, some started warming up before. 
Last year, we told you what to expect from the event. This year ushered in a few more different styles and the more performers decide to collaborate, the more genres will be added.
Star Wars imitation band on a random porch, because Porchfest, because Philly is stealing my heart. 😘 pic.twitter.com/Dc12AmIsjH

— Kyle Egerdal (@CycleHumanity) June 3, 2017
While a little over 50 porches were officially registered, many porches had unofficial performances. This year, 69 porches participated in the event, according to the organizers. There were at least five different musical genres, a change from last year's mostly acoustic performances. There seemed to be more amplification this year, and costumes too. West Philly streets were filled with music and foot traffic. Fu-Wah sold out of bread after selling over 300 hoagies in one day.
While music fans adored the event, some West Philadelphians were unimpressed. Some criticisms included the lack of diversity and an upset over the volume of music.
Christy Morin, a current West Philly resident, who also performed this year said, "I used to live in Somerville, Mass and they also do a porchfest. This was first year we participated and it was a great time. My only regret is that I did not get to see many of the other performances. Also we contacted all of our neighbors ahead of time to let them know and had no complaints."
But resident Ryan Bile sensed that not everyone near the participating porches were as welcoming.
"I'm not entirely into the idea because I'm not sure if the organizers have considered promoting the idea of talking to your neighbors before deciding to host," he said. "If not, I can see how it would be intrusive to some folks' comfort. That being said, I participated for a short time. I played later at a private event that I felt was less intrusive to the functioning of the neighborhood."
I was able to catch performances by yacht rock band Taupe and the modular synth performance at the University City Arts League and of course, Joe Jack Talcum's (front-man of the Dead Milkmen) surprise solo performance at the Sound Hole.
By 6 p.m. the streets had quieted down and the music moved indoors. Until next year.
– Rana Fayez