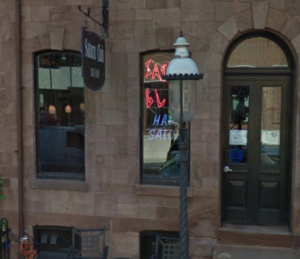 The Saturn Club hair salon opened more than 30 years ago on the 3400 block of Sansom between what is now Federal Donuts and White Dog Cafe. The salon has been a staple of the block, until now. As of June 3, it will close its doors for good, according to the salon's Facebook page.
"We've loved every minute of the last 30+ years and wanted to say thank you for taking this journey with us!" it reads on the salon's Facebook page.
We are hearing that the neighboring White Dog Cafe may take over the space.
Employees of the salon, some of whom have been there since the business started, have been given notice. The salon staff has been working on getting the word out to clients via calls, texts and e-mail. 
Stylist Ananda White, 44, has worked at the Saturn Club for the past 12 years.
"It was a great place to work. We became a family," she reminisced. White was born and raised in Philly, had a long career in retail but decided to make the switch to hairstyling a little over 12 years ago when she started at Saturn Club.
Temple University professor Priya Joshi, has been a loyal customer for the past 11 years, where both her husband and son get their hair cut as well. "From what I understand, people were reluctant to open businesses on that block [when it opened]. That salon used to be the only place for working professionals to get their hair cut," said Joshi, who was upset to learn about the salon's closing on such short notice.
Some of the stylists are in search for a new space to work in, while some are in talks with the salon owner to purchase equipment to continue work once the space is leased.
Both owners of White Dog Cafe and Saturn Club Salon could not be reached for comment.
– Rana Fayez