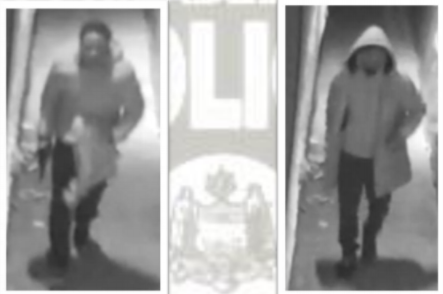 Police have released a flyer asking for the public's assistance in identifying two individuals sought in the ongoing investigation of the murder of West Philly community activist Winnie Harris. Harris, 65, was found shot to death in her home on the 300 block of North Holly Street on Feb. 3, 2017. According to the flyer, Harris was killed in the early morning hours of Feb. 2.
The first person of interest is described as a black male, average height, muscular build, with bushy hair and a receding hairline. The second person of interest is described as a black male of average build. He possibly has facial hair on his chin. The flyer can be viewed and downloaded here. 
Earlier, police released surveillance video showing the two individuals:
Anyone with information is asked to contact the Homicide Division at 215-686-3334 / 3335 / 3336 (Case number: M17-032; assigned investigator: Detective Tolliver #9056).
The City of Philadelphia is offering a reward of $20,000 leading to an arrest and conviction for every homicide.
Harris, a longtime advocate of community green space (she worked as volunteer coordinator and executive director of UC Green at the time of her death) was recently commemorated when a tree was planted in her name near 42nd and Pine Streets: