Some of you may be wondering what happened to the businesses that used to occupy the ground floor of Garden Court Plaza at 47th and Pine. The ground-floor retail space is currently closed for renovation, and after its completion, some of the old businesses are not coming back, including Take the Lead Dance Studio and Dreaming Tree Music. The building's new owners, The Post Brothers, said last year that they were looking into bringing some new businesses into the building, including ReAnimator Coffee (stay tuned for more information about these plans).
Here's some good news though about Dreaming Tree Music. As of mid-January the studio has new space in West Philly – at 4145 Chestnut Street (2nd Floor) – and has reopened under a new name – Inner Rhythms Music and Therapy Center.
"In December we closed Dreaming Tree Music, hoping to find a new home. We are now excited to announce the opening of Inner Rhythms Music and Therapy Center – a new name, but our mission remains the same," reads a message recently posted on Inner Rhythms' Facebook page.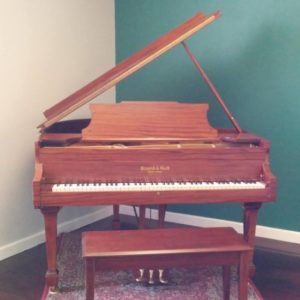 At the new space, the studio will continue to "provide affordable space to musicians, therapists, and artists in a community-minded setting." ​Inner Rhythms Music and Therapy Center provides music lessons, music therapy, event and rehearsal space to musicians, therapists and artists in the Philadelphia area.
There is an opportunity to check out the new, beautifully renovated studio space at 42nd and Chestnut. A Grand Opening party will be held on Friday, March 3, 7 – 11 p.m. and will feature some well-known local musicians, such as City Love, Erica Corbo, Ross Mann, and Gretchen Elise! Here's a Facebook page for this event.
For more information about Inner Rhythms Music and Therapy Center, visit their website or Facebook page.