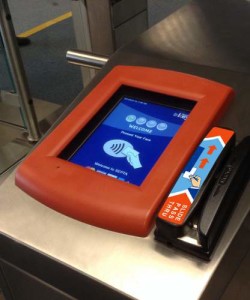 SEPTA has released 1,000 new SEPTA Key cards that include the Travel Wallet feature, which means that customers can load them with cash value and pay as they go on all buses, trolleys and the Market-Frankford and Broad Street Lines.
These new SEPTA Key cards are available for purchase at the Sales Office and Fair Kiosks at SEPTA Headquarters, 1234 Market Street. SEPTA is using a soft-launch approach for the Travel Wallet to help familiarize customers with this new way of paying and to address any issues that customers experience before moving to a larger rollout.
Customers will be required to put a minimum of $10 on the card, with a maximum of $250. Those who already have SEPTA Key Cards from previous Weekly and Monthly TransPass purchases can also load money onto the Travel Wallet at the SEPTA Headquarters locations. 
In the later phases of Travel Wallet, customers will be able to load and reload money at all SEPTA Sales Offices, at fare Kiosks located at transit stations and bus loops, online and through the SEPTA Key Customer Call Center.
Please note that during this soft-launch rollout, funds in your Travel Wallet can only be used to pay for one person, including transfers. The cost for one ride is $1.80, just like with a token, and $1 for a transfer. If you need to transfer, just tap your Key Card at the Validator pad for your connecting trip.
For more information about the Travel Wallet feature, visit the SEPTA website. Here's also a video on how to use this feature: