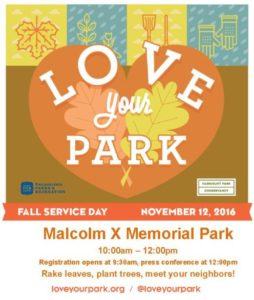 This year's LOVE Your Park Fall Service Day, an event organized by Philadelphia Parks and Recreation and Fairmount Park Conservancy, will take place on Saturday, Nov. 12.
Hundreds of volunteers will step out to clean up their neighborhood parks and help prepare them for winter. We're happy to let you know that West Philly's Malcolm X Park, located at 52nd and Pine, will be this year's signature "LOVE Your Park" site.
Mayor Kenney and other dignitaries will be present at the park on Saturday to show support to the volunteers, including Gregorio Cojulun Jr., the President of the Malcolm X Park Friends group.
Gregorio has been a member of the Malcolm X Park Friends since 1996, and has been its president since 1997. He is credited with helping to rid the park of crime and bring it back to life through his ability to motivate neighbors to get involved in the programming and stewardship of the park. 
The Malcom X Jazz series is one of the most popular jazz programs in the city.
Additionally, this year Parks & Rec and Fairmount Park Conservancy has partnered with Young Involved Philadelphia for the State of Young Philadelphia program, an annual event series held in the fall that brings together over 50 organizations and 1,000 young professionals, elected officials, and organizational leaders to examine the current state of young Philadelphia and to ask what Young professionals can do to improve their city. Young professionals from West Philadelphia are invited to come out to LOVE Your Park day to participate in the clean up and to learn about how they can get move involved in park stewardship.
The LOVE Your Park Fall Service Day at Malcolm X Park will take place from 10 a.m. – 2 p.m. and you can register to volunteer at this event here.
For more information on the LOVE Your Park Fall Service Day and to register to volunteer at other parks, visit: http://loveyourpark.org/volunteer-registration/.