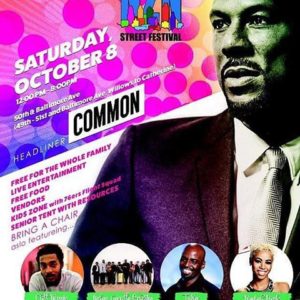 After several years' hiatus, The Neighborhood to Neighborhood (N2N) street festival is returning to 50th and Baltimore. An all-day event, which has featured stars like Macey Gray, Chrissette Michele and Robin Thicke, will be held on Saturday, Oct. 8, 12 – 8 p.m. This year, rapper Common will be headlining the festival, which will also feature live performances by national and local recording artists, including West Philly rapper Chill Moody. There will also be free food, vendors, a 76er's Kids Zone, and tents with community resources.
The festivities will be held from 49th to 51st Streets and from Willows to Catharine. Check out the festival schedule here.
The festival is presented by State Sen. Anthony Williams, Councilwoman Jannie Blackwell, and Black Women in Sport Foundation (BWSF). The event is free and open to the public.
The festival began in 1989 as a barbeque, but was halted after 2010 due to budget cuts. Check out this story by Philly.com on the festival and its history.