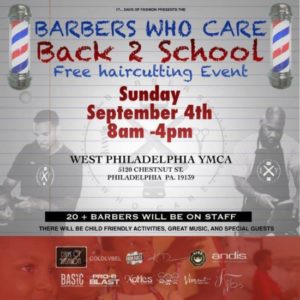 More than 20 West Philly-based barbers will be at the West Philadelphia branch of YMCA this Sunday (Sept. 4) to provide free haircuts for youths as they prepare for the upcoming school year. This is the 2nd annual "Back 2 School" free hair-cutting event organized by the local group "Barbers Who Care."
The event will run from 8 a.m. until 4 p.m. and will also include child friendly activities, music, and special guests. West Philly YMCA is located at 5120 Chestnut Street.
Dozens received free haircuts at last year's event.