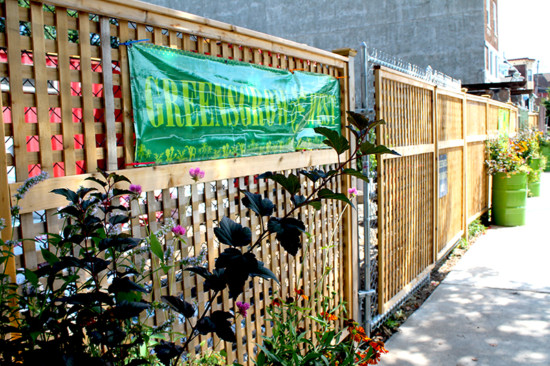 Greensgrow's new, larger and more permanent location at 5123 Baltimore Avenue is ready to welcome its first customers. The soft opening is this Friday, so stop by and check it out. Grand Opening is scheduled for Thursday, Sept. 8. The former temporary Greensgrow West location at 4912 Baltimore Ave. closed on August 7.
Greensgrow signed a long-term lease with the city for 5123-29 Baltimore Ave. in Spring 2015 and began developing the new lot late last year. Previously empty and overgrown with bamboo, the new site was reimagined by student architects from Drexel University who gathered input from local residents with an eye towards green building practices.
The site features a high tunnel, demonstration green roofs and rain gardens, repurposed shipping containers, and even a tiny house. An outdoor classroom is being built by students from the Workshop School for Greensgrow's educational workshops and will be open for neighborhood schools and organizations to use. Several West Philadelphia partners and organizations such as Cedar Park Neighbors, the Baltimore Avenue Business Association and the Philadelphia Water Department, contributed critical support to getting the site cleared for reuse. The new fence was built with the support of an Indiegogo campaign started by a neighbor. 
Grand Opening celebration will take place during the Baltimore Avenue Dollar Stroll on Sept. 8, 5 – 8 p.m. Everyone is invited to enjoy live music, free food, local farmstand, cooking demonstrations, horseback rides, and kids activities. The celebration will continue through the weekend with sales on plants and Community Garden Days discounts for registered community gardens.
The new Greensgrow West location features:
• Expanded garden center selection and high tunnel for season extension.
• Local produce; seasonal farmstand, Summer & Winter CSA pickup, SNAP Box affordable farm share pickup
• Small retail space and office in repurposed shipping containers.
• Demonstration green roofs, rain gardens, chicken coop, composting bathroom.
• Outdoor classroom built by the Workshop School allowing expanded programming for Greensgrow's educational workshops and neighborhood groups.
• Event space rental available for events.
• Tiny house coming in December.
Greensgrow West is open: Monday & Tuesday 11–4 p.m.; Friday 12–6 p.m.; Saturday 9 a.m. – 5 p.m.; Sunday 9 a.m. – 4 p.m.
For more information, visit www.greensgrow.org. Also, check out Greensgrow West's Facebook page.