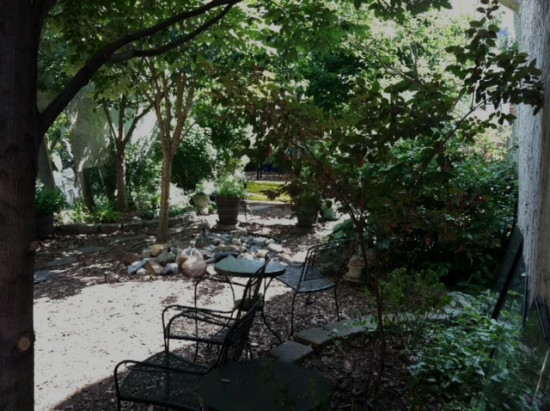 UPDATE (July 15, 2016): The meeting turned out to be anticlimactic as the developer did not show up. The developer is seeking a zoning variance to build the apartment building. The land is zoned for single-family homes only. Those present at the meeting voted overwhelmingly against the variance.
University City's hot real estate market is putting another community garden under pressure. A public meeting has been scheduled for Thursday, July 14 to discuss a proposed apartment building on one of the parcels that make up the Holly Street Neighbors Community Garden.
The garden is located on four small parcels along 41st Street between Baring and Powelton in the West Powelton neighborhood. A proposal to build a 6-unit apartment building at 320 N. 41st St. is scheduled to go before the Zoning Board of Adjustment in September. One of the four parcels that the garden sits on was up for Sheriff's sale in May, but was taken off at the last minute. Another parcel is owned by a real estate company and a third parcel has recently been claimed as part of an inheritance.
The Holly Street property has officially been a community garden for about 12 years, but nearby residents have been planting on the vacant lots for decades.
"People have gardened here for years and years and years," Winnie Harris, who has been managing the garden since it began, told Plan Philly in May. "We wanted the land before anyone else wanted it. And now just because University City is a hot real estate market, you want to build in every open space? I don't think that's right. I think the people that were there first should get preference."
The meeting begins at 7 p.m. at the Mount Zion Church at 4110 Haverford Ave.