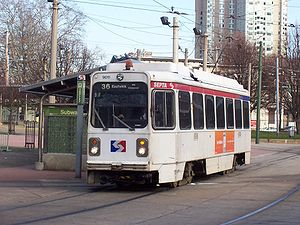 The annual trolley tunnel maintenance project, SEPTA Trolley Tunnel Blitz, is scheduled for next month and will take nine days to complete. The tunnel will close at 10 p.m. on Friday, July 8 and will re-open for trolley service at 4 a.m. on Monday, July 18, 2016.
During the blitz, trolley Routes 10, 11, 13, 34 and 36 will not operate through the tunnel. Trolley service will begin and end at 40th and Market Streets; trolleys will use their alternate diversion service routing to connect to SEPTA's Market-Frankford Line at 40th and Market Streets.
This is the fourth year SEPTA has held the Trolley Tunnel Blitz. In 2015, the tunnel was closed for 16 days.
During this year's blitz, more than 400 members of SEPTA's in-house Engineering, Maintenance & Construction Division crews will work around-the-clock on key maintenance and construction tasks. 
The Trolley Tunnel Blitz is held during the summer when ridership is lower, according to SEPTA.
"Since the first Trolley Tunnel Blitz in 2013, our crews have replaced switches and thousands of feet of rail and overhead contact wire, and undertaken an aggressive improvement and cleaning program at the trolley stations," said SEPTA GM Jeffrey Knueppel. "However, we still have work to do to bring the tunnel into a state of good repair."
More information is available on SEPTA's website.