This week has been rainy and gloomy in Philadelphia, but sunny weather is in the forecast for Saturday (May 7), just in time for the Spruce Hill May Fair, the annual community celebration.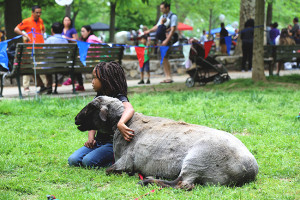 The fair will take place from 10 a.m. till 4 p.m. at Clark Park (43rd and Chester) and will feature attractions for everyone. For children, the fair will once again have a petting zoo, pony rides, a bounce tent and a 40-foot obstacle course, all at family-friendly prices.
Book lovers will find one of the best assortments of $1 used books the fair has ever offered, and raffle players can shoot for an Apple watch offered by University Family Fun Center. Drawings will be held throughout the day for many gift certificates for dinner and services from local merchants, including Aksum, Renata's Kitchen, Dock Street Brewery, Philly Homebrew Outlet, Dottie's Donuts, City Food Tours, Pattaya Grill, VIX Emporium, Jinxed, Baltimore Pet Shoppe, Keswick Cycle, Studio 34 and many more!
Raffle tickets are just $1 a piece or 6 for $5 and will be available at the Fair, or you can stop by the Spruce Hill Center (257 S. 45th St) on Thursday, May 5 (6-9 p.m.). For the full list of the participating merchants, go here. 
Vendors will be offering jewelry and crafts, much of it produced by local artists and ideal for Mother's Day gifts.
Some of the city's top food trucks will be lined up along Chester Ave.
New to the fair this year is two afternoon sets of square dancing with a caller and The Four Prophets blue grass band.
Here's the music schedule:
10:30 a.m. – Ants on a Log: music for children and other childlike people.
11:30 a.m. – City Love: conscious acoustic duo with mandolin and hip hop
12:30 p.m. – Unidos de Filadelphia: 15-piece Brazilian drum brigade
1:30 p.m. and 2:30 p.m. – The Four Prophets blue grass band with square dancing
"The May Fair is one of those community-building events that make West Philadelphia a great place to live," said Eric Santoro, president of the Spruce Hill Community Association.
The fair is presented each year by the Spruce Hill Community Association, Inc. Free introductory memberships – along with SHCA's new T-shirts – will be available at the main booth.
– Mark Wagenveld, SHCA's VP for Operations, contributed to this post