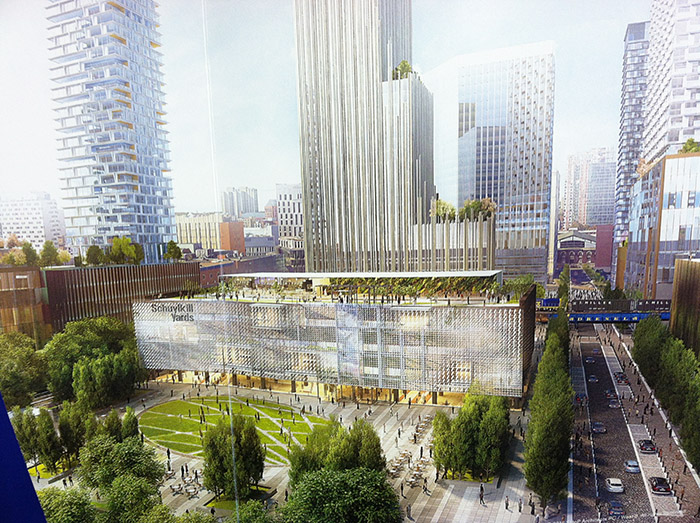 The $3.5 billion development of 14 acres of parking lots and concrete dead space west of 30th Street into eight high rises connected by green public spaces and retail officially has a name – "Schuylkill Yards."
The project, which was presented Wednesday by Drexel and master developer Brandywine Realty Trust, will begin with the conversion of the 1.3-acre parking lot across 30th Street from the train station into public space that includes a large, oval lawn criss-crossed with walkways. That project is scheduled to break ground later this year.
Other pieces of the plan include replacing the Bolt and Mega Bus stops along JFK Boulevard with glassy high-rise office and residential buildings, dedicated bike lanes along Market Street and a green and event space that will be called "The Grove." The tallest high rise, which will sit a couple of blocks west of the 30th Street Station between Market and JFK will be about 950 feet tall, about the same height as the Comcast Center. 
All this urban splendor aside, Drexel President John Fry said the project will be mindful of the residential areas it borders.
"This will be development for the exclusive few, but for everyone," said Fry, adding that the project would generate 10,000 construction jobs over the 20 years it will take to build it.
"Inclusion" was a recurring theme during the presentation, and Fry alluded to Powelton Village and Mantua, where many residents have grown wary of the encroaching footprint of Penn and Drexel and the "meds and eds" juggernaut that is transforming University City.
"This will benefit thousands of low-income residents without disrupting the fabric of their neighborhoods," said Brandywine Realty CEO Jerry Sweeney.
But the project is aimed mostly at tech and life sciences firms and Drexel students, faculty and administrators. The university has grown to be one of the city's largest private employers, and its student body has grown to more than 25,000 students.
Wednesday's announcement comes a few months after plans were unveiled for uCity Square, the billion-dollar development on the site of the former University City High School and Drew Elementary at 36th and Filbert that will include office buildings and a new public school.
– Mike Lyons