As Shakespeare in Clark Park (SCP) is preparing for its 11th summer season, the company has announced that a West Philadelphian was appointed to a key role.
Kittson O'Neill, an actress and director who made her SCP debut last summer when she directed the 10th Anniversary production of The Winter's Tale, has been named as the Artistic Director. She succeeds Marla Burkholder, who co-founded the company in 2005.
O'Neill has appeared on Philadelphia stages often and currently can be seen in Or, at Hedgerow Theatre. When directing The Winter's Tale, she brought together professional actors, more than 20 local children, and an unforgettable bear puppet. The show drew almost 5,000 audience members to Clark Park.
"Kittson's commitment to both a strong and progressive artistic vision and a high level of authentic community engagement makes her a great fit for Shakespeare in Clark Park," says John Frisbee, SCP's Board President.
We asked Kittson about her background, her relationship to West Philadelphia and her plans regarding Shakespeare in Clark Park, including community engagement. Her answers are below.
Q.: Where are you from and where in West Philadelphia do you live?
I was born in Connecticut and grew up there and in Western Australia (My Mum is Australian). I now live in Mantua in West Philadelphia. My son attended St. Mary's Nursery School and, as a result, our family has a number of great friends who live all over West Philly.
Q.: What interests you in Shakespeare in Clark Park? Should people expect any changes?
There are so many things I love about Shakespeare in Clark Park!
Shakespeare's plays are epic in scope: they have bears and battles and shipwrecks! It can be challenging to fully realize those elements inside a traditional modern theater, but out in the park you can embrace the huge and have an eight foot bear, or a hundred person army, or giant waves. I am excited to keep pushing our productions to use the size and freedom of the park setting: to be even more spectacular! But even more than the size of the park, I love the audience that it naturally attracts. The show is free. Seating is unrestricted and as a result we often attract watchers who hadn't even planned to see the show. Who didn't even know the show was happening. Every night, there is at least one audience member for whom it is the first Shakespeare they have ever seen. That's an amazing gift to us as theater makers. And a responsibility we take seriously. We want that unexpected audience member to leave our show loving Shakespeare and hungry to see more.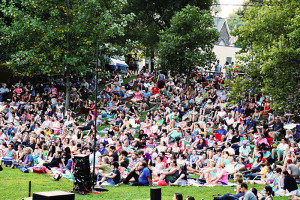 There won't be any serious changes to what we do. "If it ain't broke…" However, show is getting REALLY popular and dealing with the crowd we attract is becoming an exciting challenge, so you can expect some experiments with seating and staging as well as some new approaches to the fine art of ushering!
Q.: Community members, both adults and children, participated in the last two SCP performances. Will this trend continue?
Most definitely! I believe strongly in Radical Community Engagement, so over the next few years I will be working to weave the fabric of our community into the productions in a variety of ways. SCP attracts some of the finest theater talent in the city of Philadelphia. Putting the community on stage with those actors and inside the work of our designers and directors is an electrifying and galvanizing experience and one you won't get any where else in our fair city. So stay tuned for a lot more on that front.