There are tons of festive events happening in the area this weekend, including one of the biggest local shopping events of the year, a new restaurant grand opening party, a craft show opening, a big FREE holiday family event, a dance party supporting a local non-profit, and more. More information about these and other upcoming events is below. If you want to buy a Christmas tree or holiday wreaths, greens and decorations this weekend, check out this post. For local gift ideas and more holiday shopping opportunities, visit our "Buy Local for the Holidays" page.
Friday, Dec. 4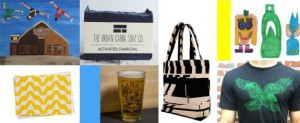 • University City Arts League Holiday Craft Show Opening Reception, 6 – 8 p.m., 4226 Spruce St.
Thirty local artists will present their wares—just in time for the holidays! This is a great opportunity to shop for hand-made gifts for you and the whole family, such as cards, pottery, soaps, t-shirts, and more! Complimentary drinks and eats will be offered while you shop during the opening reception this Friday. The Craft Show is open daily Dec. 4-20. Monday-Friday, 5-8 p.m.; Saturday and Sunday, 12-6 p.m. Closing reception will take place on Dec. 20, 4-6 p.m. The list of 2015 vendors is available here.
• Clarkville Grand Opening Party, 5 p.m., 43rd and Baltimore
New Baltimore Avenue bar and restaurant, Clarkville, is opening this Friday. The grand opening party kicks off at 5 p.m.
• West Philly jeweler Amy Neukrug presents her holiday collection at Hello World, 5 – 9 p.m., 3610 Sansom St.
• The Bald Soprano opens at Curio Theatre, 8 p.m., 48th and Baltimore 
Saturday, Dec. 5
• The Baltimore-Lancaster Avenue Shoppers' Trolley (BLAST), 12 – 5 p.m.
Just like Baltimore Avenue Dollar Strolls and Second Fridays on Lancaster Avenue, this event showcases local businesses. Baltimore and Lancaster Avenue businesses invite you to check out their free and festive offers on Saturday afternoon and hope you have a BLAST! A shuttle will be looping from noon till 5, free for the duration of the event – you can hop on and hop off at all stops all day. Check out the flyer below for the trolley route and more details (click to enlarge). In addition, Milk and Honey Market (45th and Baltimore) will be hosting a children's violin quartet from noon – 1 p.m.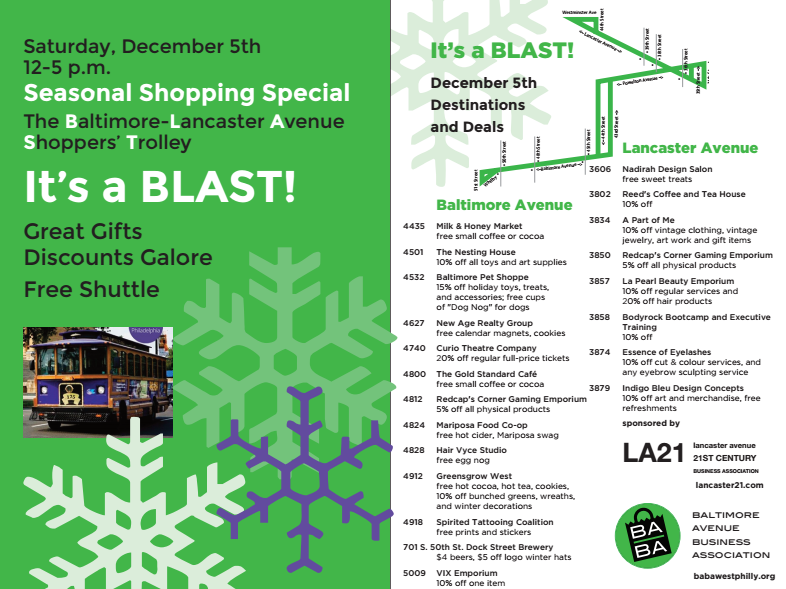 • Block Leaders Brunch at Ahimsa House, 10 a.m. – noon, 5007 Cedar Avenue.
• West Philly jeweler Amy Neukrug presents her holiday collection at Hello World, 11 a.m. – 5 p.m., 3610 Sansom St.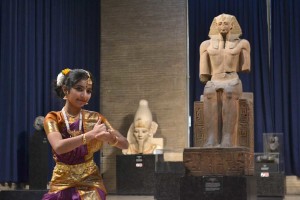 • "Peace Around the World" at Penn Museum (free admission), 11 a.m. – 4 p.m., 3260 South Street
Families are invited to ring in the holiday season with hope and joy at the 20th annual Peace around the World celebration at Penn Museum. This free event is designed for guests of all ages. Visitors receive a "Passport to Cultures," featuring "itineraries" to visit countries and explore diverse holiday traditions from around the globe. The day includes choral performances, storytelling, Middle Eastern drumming workshops, henna hand art, sari-wrapping, face painting by the renowned troupe Peanut Butter, and special "Celebrations of the World" family gallery tours. Also, stop by the Penn Museum Shop which offers great gifts for all ages: books, toys, jewelry, décor, and reproductions. The Museum Shop is located on the second floor next to the Daniel G. Kamin Entrance. For more details, visit the Penn Museum website.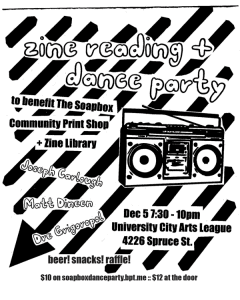 • Dance Party & Zine Reading Fundraiser at University City Arts League, 7:30 – 10 p.m.
This fundraising event supports The Soapbox's move into a 4500-square-foot space which will offer bigger, better studios, private artist studios, increased open hours, and new memberships. The event kicks off the Step Up for The Soapbox fundraising campaign. The event starts promptly at 7:30 with a short zine reading, followed by a dance party at 8:00. Raffle tickets will be available for some awesome art donated by Soapbox members and supporters. Winners will be announced at 9:30 p.m. Tickets ($10) can be purchased online or at the door ($12). Go here for more information.
• Curio Theatre presents The Bald Soprano, 8 p.m., 48th and Baltimore.