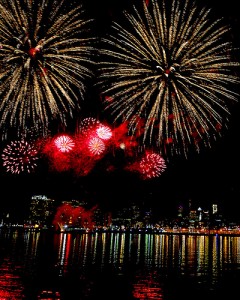 Here's a sampling of New Year's Eve and New Year's Day events and happenings in West Philly and Center City. Also, a reminder that subway trains will be running all night tonight to accommodate New Year's Eve travelers. Happy New Year!
New Year's Eve Fireworks
Philadelphia will ring in 2016 not once but twice with New Year's Eve fireworks on the Delaware River waterfront (Penn's Landing). The first show starts at 6 p.m., and the second one is at midnight. If you can't make it to Penn's Landing, check out this Visit Philly guide to the best spots to watch the fireworks and ring in the New Year.
New Year's Eve Yoga
Studio 34 is hosting the annual New Year's Eve Yoga and Mochi event from 8 – 10 p.m. This is a fun and inspiring all-levels yoga workshop led by Studio 34 teacher Morgan Andrews. After class, mochi (sweet chewy rice cakes) will be served. Admission for this class is sliding scale, $10-$20. Click here for more information. Also, you can try some hot yoga for free at Bikram Yoga West Philly (4145 Chestnut St), just bring a screenshot of this ad. Bikram Yoga is holding classes today until 4:30 p.m., and there will be one class on New Year's Day, at 11 a.m. Here's the schedule for this week.  Continue Reading