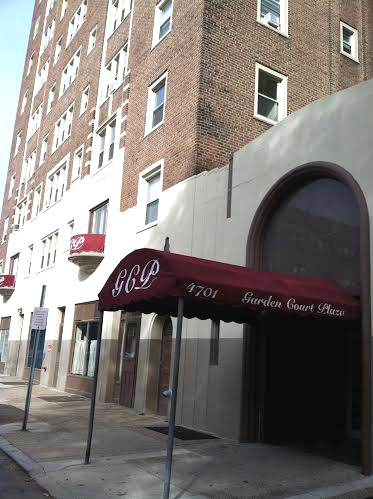 Real estate developer Post Brothers announced recently that it bought the Garden Court Plaza (4701 Pine St.) and is planning upgrades and renovations that has current residents wondering if they will be priced out of their apartments.
Built in the 1920s, the 13-story apartment building, which includes 146 units, was purchased for an undisclosed price as part of Post Brothers $250 million University City acquisition strategy, according to the Philadelphia Business Journal and other news outlets.
A founder of Post Brothers told the Philadelphia Business Journal that there is a shortage of housing geared toward "young professionals" in the area, which he compared to Cambridge, Mass., and that the firm's strategy is to "upgrade and reposition" properties.
Post Brothers will do substantial renovations to Garden Court Plaza's interior and exterior and add upscale amenities, according to a press release.
Some current residents who have contacted West Philly Local and asked not be named say they are bracing for big changes, including a substantial rent increase. They said that the new management company has begun asking for tax and pet vaccination information from residents.