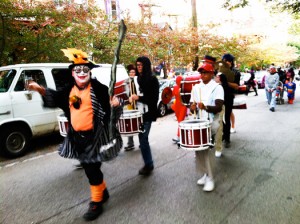 Each year, dozens of little monsters, princesses, supermen, cowboys, Mickey Mice and other Halloween costume-clad kids and parents, gather near 45th and Baltimore for the Spruce Hill Tot Parade, followed by a party on the 4200 block of Osage ("Little Osage"). This year is no exception to this great neighborhood tradition. More details, provided by the event organizer, Spruce Hill Community Association, are below. Also, check out photos from last year's parade and party.
The 18th annual Spruce Hill Halloween Tot Parade and Party, organized in a joint effort between the Spruce Hill Community Association and neighbors on the 4200 block of Osage Avenue, will start at 45th and Larchwood at 3:30 p.m. with a rousing drum and cymbal band provided by the University of Penn DrumLine.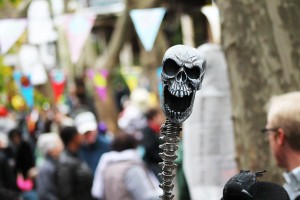 The parade and 'trick or treating' will then proceed East over Larchwood Avenue, ending on the 4200 block of Osage Avenue where the neighbors throw their annual block-party style Halloween celebration treating the children to cider and baked goods provided by neighbors and local businesses.
Later on, be sure your trick-or-treating route includes the Spruce Hill Center (257 S 45th St), where SHCA board member and Mel-Lo Townwatch leader Jackie Waiters will continue the long standing tradition of delighting trick-or-treaters with hand assembled goodie bags.
Where: Parade starts at 45th and Larchwood, ending on the 4200 block of Osage.
When: Saturday, Oct. 31. Assemble begins at 3 p.m. Parade starts at 3:30 p.m., followed by the Halloween Party