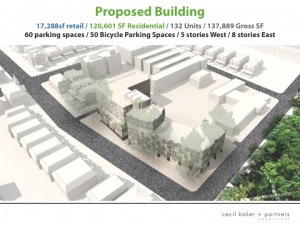 The large residential project proposed for the corner of 43rd and Baltimore across the street from Clark Park has cleared another hurdle and will now go through a series of reviews at the city level.
The Spruce Hill Community Association zoning committee, the Friends of Clark Park and the University City Historical Society have all approved the plan, according to a recent email announcement from the Spruce Hill Community Association's zoning chair Barry Grossbach.
The 132-unit building at 4224 Baltimore Ave. would include a mix of condominiums and market-rate apartments. The plan also calls for first-floor commercial space, including a large restaurant.
Three project hearings have been scheduled for this month at the City government offices at 1515 Arch Street. All meetings are open to the general public. The community participation is encouraged, especially for the Zoning Board of Adjustment (ZBA) meeting, which will take place on Wednesday, April 29.
Next week, on Tuesday, April 7, the Civic Design Review Committee will examine the project. Large development projects with over 100 dwelling units, like the proposed apartment building at 4224 Baltimore Ave, require a Civic Design Review. You can read more about this here.
Here are more details on the upcoming meetings at 1515 Arch Street:
Tuesday, April 7 – 1:00 p.m. – Civic Design Review Committee – Room 18-029
Tuesday, April 28 – 1:00-4:00 p.m. – Philadelphia City Planning Commission, 18-029
Wednesday, April 29 – 4:00 p.m. – ZBA (Zoning Board of Adjustment), ZBA Hearing room, 18-002