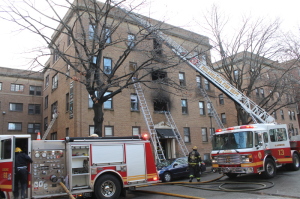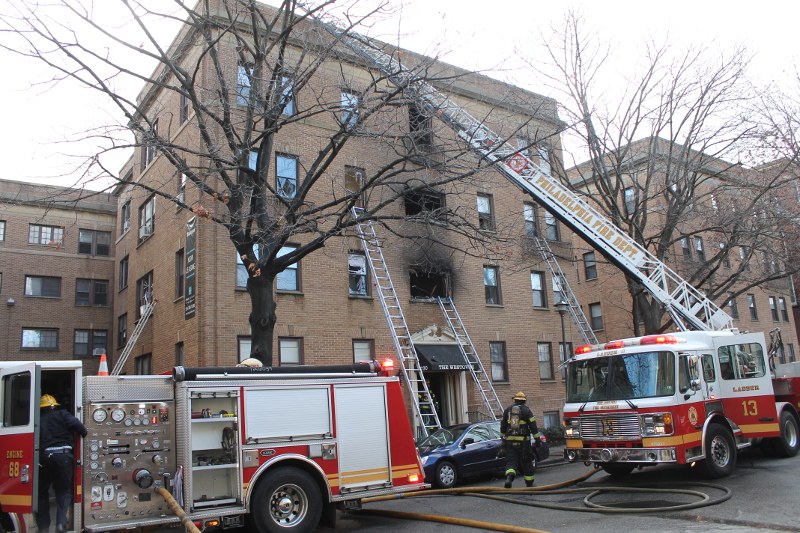 UPDATE: We've just learned of another fundraiser for a family displaced by the fire. They're currently in a temporary housing and need some funding for a new apartment, clothing, and furniture. Here's a GoFundMe page to help Marlon and Lulu.
The four-story Westover apartment building at 4730 Pine Street, which was damaged by a fire on Friday, Dec. 19, has been closed for repairs for at least six months, according to building resident Ruth Morgan.
"Everyone is looking for a place to live now," Morgan posted this morning on our Facebook page.
This afternoon, we spoke to a policeman who was patrolling outside the building, and he confirmed that the section of the Westover Apartments where the fire broke out is now closed. Two adjacent sections of The Westover apartment complex, at 4720 and 4740 Pine St, were not damaged by the fire and are occupied. The Westover Apartments are managed by Campus Apartments.
The cause of the fire is still under investigation, according to the Fire Marshal's office.
An online fundraising campaign has been going on for two of the building's residents, who lost all of their belongings in the fire.