There will be a bunch of festive events this Saturday and Sunday, including some great local holiday shopping opportunities and Christmas caroling at Clark Park. Plus Santa will make a stop at a local bar, so bring your camera! For more upcoming events, visit our Events Calendar.
Go West! Holiday Craft Fest at The Rotunda (40th and Walnut)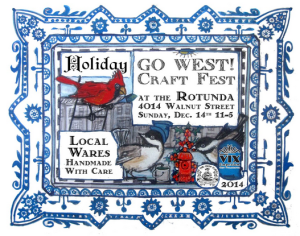 Over 50 local craftspeople will present their work at this year's holiday edition of the popular Go West! Craft Fest. The event will be held on Sunday, Dec. 14, from 11 a.m. to 5 p.m. at The Rotunda (40th and Walnut). Stop by to check out beautiful handmade items like jewelry, ceramics, warm knitted accessories, prints, stationery, soap, candles, home accents, children's items, and more (here is the full list of the vendors). If the weather is clear, vendors will be indoors and out. There will also be sweet treats by West Philly's Weckerly's Ice Cream and the Lil' Pop Shop.
UPDATE: The fest organizers sent a note that Walnut street will be closed to traffic on Sunday due to construction work across the street from The Rotunda. The street will be open to pedestrians, but no cars will be allowed on Walnut between 40th and 41st streets between 6:30 a.m. and 3:30 p.m.
40th Street AIR Holiday Art Sale (4007 Chestnut St)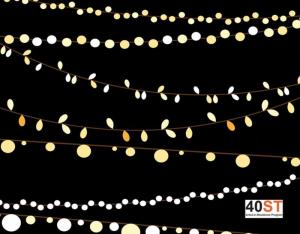 Work by West Philly artists in the 2014-2015 40th Street Artist-in-Residence (AIR) program – Althea Baird, TenBroeck Cripps, Brujo de La Mancha, Aislinn Pentecost-Farren and Lorna Williams – will be featured at this weekend's 40th Street AIR Holiday Sale. The sale will take place on Saturday and Sunday, from 12 – 6 p.m. at the AIRSPACE Gallery at 4007 Chestnut Street (1st floor). Many guest artists will also take part in the event, including AIR alumni. 
Santa Visits The Bottle Shop at Local 44 (44th and Spruce)
Despite being super busy these days, Santa will stop by the Bottle Shop at Local 44 on Saturday (Noon-3 p.m.), so this is one of those times when it's okay to bring your kid to the bar. This is also a fun, low-key way to hang out with your friends and neighbors. Free treats will be available for the kids and lots of Christmas and seasonal beer for the grownups. And don't forget to bring your camera!
BIG Holiday Book Sale at Walnut West Library (40th and Walnut)
Friends of Walnut St West Library are holding their "Best Holiday Book Sale Ever" on Saturday, from 11 a.m. to 3 p.m. Prices for children's/youth books are 50 cents, paperbacks are $1, and hardcovers are $2. Also, buy three books for the price of two! And books on carts are at half price. Come early for the best selection! For more information visit: WSWLibraryFriends.org.
Christmas Caroling at Clark Park (45th and Regent)
Christmas caroling by candlelight in Clark Park is a good holiday tradition in the neighborhood. The Friends of Clark Park invite you to come raise your voice with your neighbors on Sunday in singing traditional Christmas carols around the Community Christmas tree. Refreshments will be served afterwards. The event starts at 5 p.m.