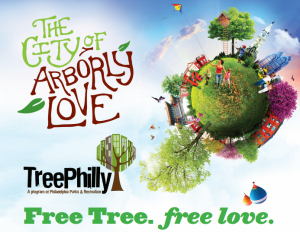 UPDATE (4/9/2014): Due to unprecedented demand, walk-ins will not be accepted at upcoming tree giveaway events, including the event at Bartram's Garden on Saturday, April 12, according to TreePhilly Program Assistant Lindsey Walker (see comments below).
(3/19/2014): TreePhilly, a great program run by Philadelphia Parks and Recreation, is back for Spring 2014 and is giving away free yard trees to city property owners. Eleven different species are available, ranging from large oaks to smaller fruit trees (all trees are six to eight feet tall). One of the giveaway events will be held in Southwest Philadelphia – at Bartram's Garden (54th & Lindbergh Blvd.) – on Saturday, Apr. 12, from 10 a.m. – 12 p.m. Knowledgeable volunteers will be on hand to help people select the appropriate species and learn how to plant them properly.
Interested property owners can get more information and register by visiting treephilly.org or by calling 215-683-0217. The deadline to pre-register for the spring giveaway is March 27, but walk-ins will be accepted at the event as well.
Please note that TreePhilly is focused on giving away yard trees – trees that must be planted in the ground on private property (not in the sidewalk). However, people can also get help requesting free street trees from the city, TreePhilly Program Assistant Lindsey Walker told West Philly Local via e-mail. Please contact TreePhilly for more information.
If you have questions, you can also email: treephilly@phila.gov