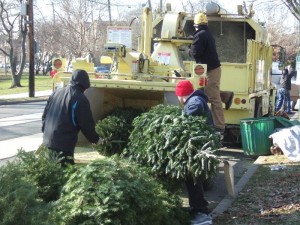 Many neighbors have started looking for ways to get rid of their Christmas trees, so here are a few options.
UPDATE (1/4/14): Electronics recycling has been postponed until Saturday, Jan. 11. Christmas tree recycling is still on for January 4. For those who want their tree to be turned into something useful instead of adding to the landfill, there are some recycling options available. On Saturday, Jan. 4, bring your tree along with used and unwanted electronics to a Christmas Tree and Electronics Recycling event at Clark Park (43rd & Chester). This annual event is organized by UC Green, University City District and eForce Recycling. A $10 donation is being asked for each tree to cover expenses of turning it into wood chips. Also, a $20 charge will be asked for recycling certain type TVs and monitors (check the event's Facebook page for more info). The event will take place from 10 a.m. to 4 p.m.
If you want to keep your tree a little longer, please note that the city will launch its Christmas Tree Recycling program on Monday, Jan. 6, according to an announcement posted by the Streets Department. The program will run through Saturday, Jan. 18. During this time, residents may drop off their trees for recycling at any of the following Streets Department Sanitation Convenience Centers Monday through Saturday from 8 a.m. to 6 p.m.:
3033 South 63rd Street
Domino Lane and Umbria Street
State Road and Ashburner Street
Christmas trees brought to these sites will be used for composting or mulch. Before dropping off your tree, make sure it's untied and free of all decorations and ornaments, plastic bags or wrappings. More information can be found here.
Finally, trees left at the curb will be picked up on regular trash collection days and will not be recycled.
(Photo courtesy of the University City District)