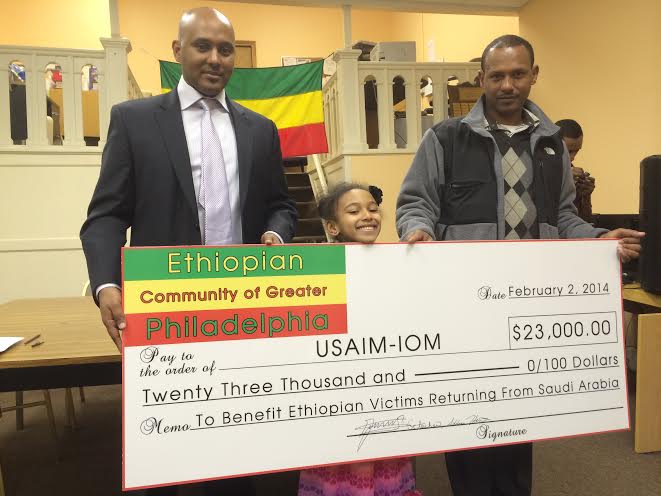 UPDATE (2/3/2014): The photo above is from the check presentation event on Sunday, Feb. 2, courtesy of Addisu Habte.
Since the 1960s, Ethiopian immigrants have moved to Philadelphia, settling largely in West Philadelphia—one of the largest African communities in the Greater Philadelphia region. Today, West Philadelphia is home to over 10 Ethiopian restaurants, bars, and businesses, and is the epicenter of the Ethiopian Community Association of Greater Philadelphia.
West Philadelphia's Ethiopian community will come together this Sunday, Feb. 2, in an effort to raise awareness regarding the treatment and deportation of Ethiopian immigrants in Saudi Arabia. The event will take place at 3 p.m. in the headquarters of the Ethiopian Community Association of Greater Philadelphia, located at 4400 Chestnut Street.
According to the International Organization of Migration (IOM), over 150,000 Ethiopian immigrants have returned to Ethiopia since Saudi Arabia began deporting undocumented migrant workers as part of a "crackdown" on irregular migration in November. Since deportation efforts started, IOM has helped Ethiopian returnees with emergency medical assistance, post-arrival health assistance, psychological aid, food, transportation, essential items, and reintegration allowances. The organization is also working with the Ethiopian government to manage the influx of vulnerable migrants.
Addisu Habte, a local community organizer, told West Philly Local that the Philadelphia Ethiopian community raised over $23,000 in funds to contribute to the IOM in its efforts to provide assistance to deported immigrants. The Ethiopian Community Association will present a formal donation check to a representative of the U.S. Association for International Migration, which works in partnership with the IOM, on Sunday.
A presentation on the situation of assistance in Ethiopia and to Ethiopians returning from Saudi Arabia will also be given during the event.
–Annamarya Scaccia