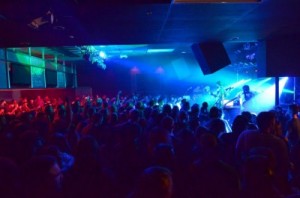 The Blockley, a popular music venue located at 38th and Ludlow, will close its doors at the end of this month, its owners revealed on Facebook last night. The venue, which has had brushes with the law over serving underage patrons, lost its liquor license "without much notice," the post read. The license has to be moved out of the building by the end of the year.
The last performances at the venue are currently scheduled for December 27 and 28 and all 2014 performances have been canceled, according to the Facebook post. The Blockley staff also told Philadelphia Magazine that they're working on a big farewell concert.
The venue opened in 2009 and has hosted numerous music performances since. The place was particularly popular among college students and was shut down temporarily for allegedly serving minors.
The Blockley's location, which includes an intimate stage and dance floor, has long been a staple of live music in Philadelphia. When it was the Chestnut Cabaret, the venue was a frequent stop for up-and-coming acts in the 80s and 90s, including the Red Hot Chili Peppers, The Pogues, Phish, Sonic Youth, The Roches, Soul Asylum, The Meat Puppets; local acts such as Schoolly D and the Dead Milkmen; and established favorites like John Lee Hooker, Albert Collins, Parliament and Blue Oyster Cult.
It is still unclear what will happen to the property after The Blockley leaves.
(Photo via theblockley.com)