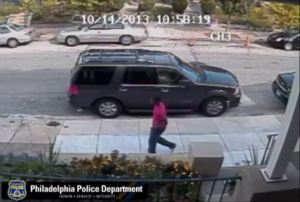 Editor's Note: Readers' comments are welcomed. We received a request though not to identify the block or houses seen in the video or neighbors whose surveillance camera or cameras might have been used.
The man who, armed with a gun, robbed and sexually assaulted a 29-year-old woman on the morning of October 14 on the 5000 block of Hazel Avenue, is still at large. The police have released surveillance video of the suspect and are asking for public's assistance in identifying this person. On the video below, the suspect, an 18-20 year-old man wearing a red t-shirt and dark colored pants, can be seen walking in the area prior to the assault that took place around 11:50 a.m.
The suspect is also wanted in connection to several other robberies in the area, according to police.
If you see this person, you are asked not to approach him but to call 911 immediately. To submit a tip via telephone, dial 215.686.TIPS (8477) or text a tip to PPD TIP or 773847.