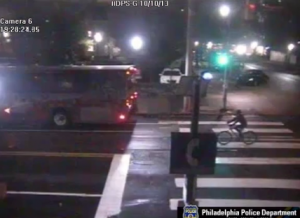 UPDATE (4:30 p.m.): Police are looking for the driver of a vehicle that struck a 22-year-old woman near 38th and Spruce Streets, leaving the victim seriously injured. The woman was riding her bike east on Spruce Street when she suddenly fell. While she was attempting to stand up, she was struck by a car going west on Spruce Street, according to police. The woman sustained severe head injuries and was taken to the hospital, where she is listed in critical condition.
Here's the description of the vehicle provided by police:
Dark colored four (4) door sedan with a light colored plate on the front possibly out of state or a vanity plate. Vehicle may have possible damage to the left front fender and or bumper.
The police also released surveillance video of the incident where you can see the woman riding her bike on Spruce Street and then being struck by a dark-colored vehicle:
Anyone with information about this incident is asked to contact police. You can submit a tip via telephone (dial 215.686.TIPS (8477)) or text a tip to PPD TIP or 773847.
EARLIER: A young woman riding her bike was struck by a car Thursday evening on Spruce Street between 38th and 39th Streets, according to a West Philly Local reader report. The incident happened around 7:30 p.m. and the car drove off after striking the woman. Witnesses said that it was a black or dark convertible. A few people attended to the victim, who was "responsive but very little" while waiting for the ambulance.
We're trying to get more information about the incident and the condition of the victim.