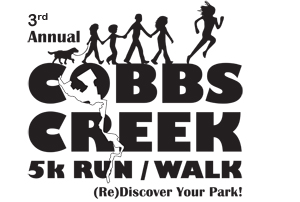 UPDATED 10/6/13 at 5:51 p.m. If you're a runner and love a good challenge, there's still time to register for the Third Annual Cobbs Creek 5k Run/Walk, taking place at 9 a.m. next Saturday, Oct 12.
Taking place now in the fall, the yearly Cobbs Creek race serves as a way to draw people—particularly locals—into the sprawling green space running along 63rd Street between City and Woodland Avenues. Overseen by the recently formed Friends of Cobbs Creek (Facebook page), Cobbs Creek Park features extensive hiking trails, full forests, a rambling creek and rushing waterfalls, and accessible recreational facilities such as basketball courts and playgrounds–all right within reach of even University City's most eastern boundary. The park also offers children's programming, like the Cobbs Creek Community Environmental Education Center, that will receive financial support from the registration fees, sponsorships and donations gathered from the run/walk.
"I don't think a lot of people are aware of Cobbs Creek and it's a shame. It's really beautiful … It really feels like it's part of your home," said Alon Abramson, founder of West Philly Runners and member of Friends of Cobbs Creek. West Philly Runners is sponsoring the event along with Philadelphia Runner, Philadelphia Parks & Recreation, Philadelphia Water Department, and Fairmount Park Conservancy. "This is good opportunity to get more than just the people that live in the Cobbs Creek neighborhood to recognize this is within a few miles of us."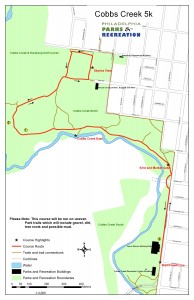 In an effort to motivate more runners to register for the race and explore the park, West Philly Runners and Philadelphia Runner have organized a fun run for 9 a.m. this Sunday, Oct 6. The run will start at Philadelphia Runner's University City location, 3621 Walnut Street and take participants to Cobbs Creek's Education Center, 700 Cobbs Creek Parkway, for an informational session on the park. Brunch at Cedar Park Café is scheduled after the run.
Abramson theorizes that part of the reason fewer West Philadelphians east of 52nd Street travel to Cobbs Creek Park is a deceptive perception of distance, assuming it's much further from University City proper than it actually is. In fact, if 40th and Market Streets is your starting point, you can traverse between less than two and a half to less than four miles depending on what section of the over 700-acre park you are visiting. And, depending on where you live in West Philly, traveling time to Cobbs Creek can take 5 – 20 minutes by car, 30 – 40 minutes by public transportation, or a 30 minute bike ride.
"As [part of] West Philly Runners, I'd love to get more runners … people to go that far west and people crossing the invisible divide," Abramson told West Philly Local. "There's a real racial boundary at 52nd Street that keeps people separated and segregated, so this is a great opportunity to cross that [border] and see that there's a really safe, beautiful space. If we could get more people in there, it would be generally positive for the community."
-Annamarya Scaccia