At the corner of Lancaster and 38th, the curved facade of Hawthorne Hall stands just as it did 100 years ago when fraternal organizations and civic associations were its main occupants. But inside is a whole different story: cabinets have been transformed into doorways, attics into twisted dining halls, dust-covered rooms into art galleries.
This makeover is the work of the Rabid Hands Art Collective, which transformed the space into an art exhibit celebrating the building's mysterious history for the 2013 Hidden City Festival.
Last weekend, the nonprofit news site Hidden City returned to Hawthorne Hall for a guided tour of the Powelton area. Powelton–bordered roughly by Lancaster Ave., Haverford, Race and 32nd Streets– is a mix of student housing and large Victorian mansions and duplexes.
As tour guides Rachel Hildebrandt and Caroline Acheatel explained, Powelton was once home to a class of entrepreneurs and business managers from the mid-1800s that were excelling in new industrial fields. These individuals spread into West Philadelphia as railways and bridges were built across the Schuylkill River and the area's large agricultural estates were subdivided into neighborhoods.
But Powelton is more than frat houses and old mansions. Hildebrandt and Acheatel, both employees at Partners for Sacred Places, guided the tour through a mix of inconspicuous cultural landmarks and historical buildings, including backyard museums, the building where Alfred Barnes (of The Barnes Foundation fame) built his fortune in pharmaceuticals, and a church adapted for affordable apartments.
The tour's strong suit was that it explored the interiors and unknown histories of places many of us pass by everyday.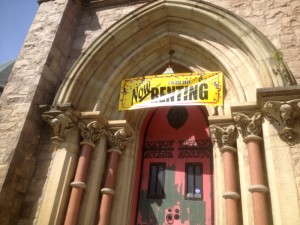 The Ellen Powell Tiberino Memorial Museum, for example, is just off Hamilton and 38th on a quiet stretch of residential homes. Without venturing down the museum's alley entrance, you might never know that a courtyard formed from connected backyards contained original art from two generations of the Tiberino family.
The Cloisters, a church converted into apartments at Spring Garden and 38th, is equally discreet. Besides a large banner reading "now renting," there is little to suggest that within its stone walls there are over 64 units of affordable housing.
To discover more of Philadelphia's past, keep an eye out for Hidden City tours around the city.
- Alex Vuocolo