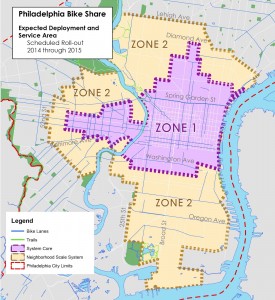 As West Philly Local reported earlier this year, a new form of public transportation in Philly – a bike share program – is scheduled to launch in 2014. The program will bring hundreds of bikes to the city for everyone to share (between 1,000 and 1,500 bikes will be included in Zone 1; see map). Currently, the Mayor's Office of Transportation and Utilities is looking for property and business owners interested in hosting or sponsoring a bike share station. The City of Philadelphia requests letters of interest from interested business and property owners and institutions. The deadline to express this non-binding interest is Monday, Oct 7.
Here's some more info if you want to be part of this exciting new program:
The City is looking for two types of partners:
Station hosts: Property owners willing to locate bike sharing stations on or near their property will be among the first round of sites considered for the system launch. Bike share stations require a minimum space of approximately 7 feet by 35 feet (235 sq. ft.)
Station sponsors: Businesses, property owners and institutions who would like to assure their participation in bike sharing from the outset are invited to become Station Sponsors. Sponsors will be at the top of the list for location siting, given the opportunity to host one or more stations at or near their location, and given the opportunity to underwrite their station(s).
Please note that your letter of interest will be used for planning purposes only. It does not commit the City of Philadelphia or interested businesses, property owners and institutions to any further obligations. You can view the full document with information about what is involved here.
To express your interest or if you have questions, address them to:
Aaron Ritz
Bicycle & Pedestrian Programs Planner
Mayor's Office of Transportation and Utilities
1401 JFK Blvd, Suite 1430, 19102
Phone: 215-686-9000
aaron.ritz@phila.gov
The City has a website with information about Philly's bike share program, set to launch around this time next year.