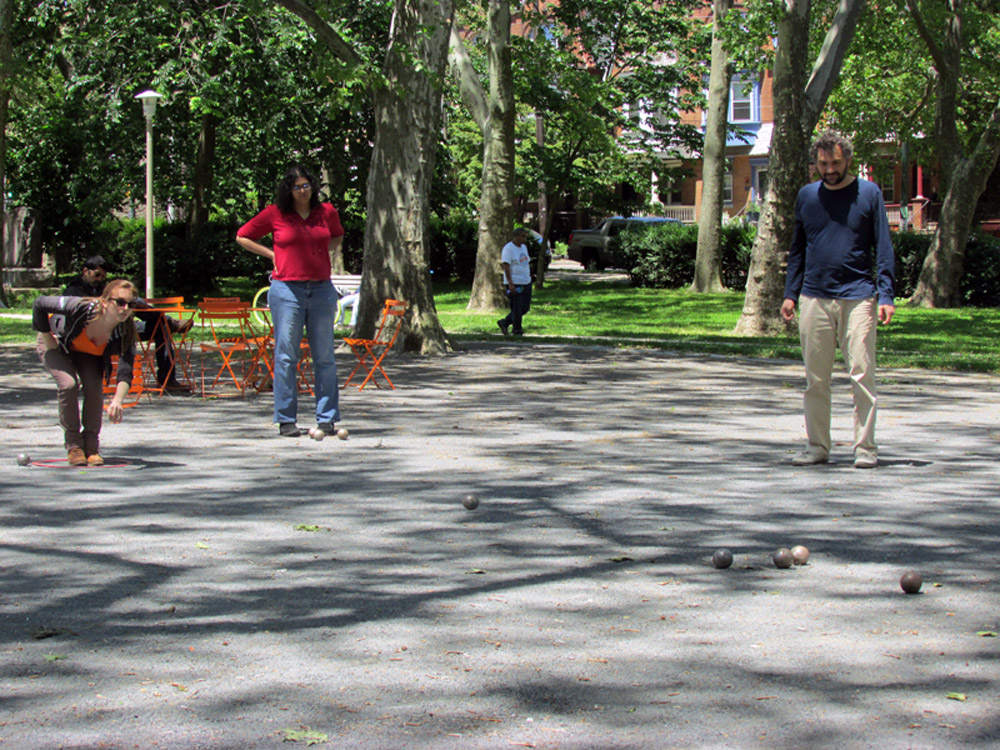 Folks who've strolled through Clark Park's north circle on Sunday are probably wondering why people were whipping and rolling around shiny orbs. Well, we have your answer: they're playing pétanque.
Every Sunday, players from West Philly to as far as Harrisburg gather to try their hand at the French sport of "boules" (or "balls") as members of the new Philadelphia Pétanque Meetup group, the first of its kind in the city. Originated in 1900s, pétanque (pronounced 'pay-tonk') is a teamed game in which players toss metal globes in hopes of landing it as close to the "cochonnet"—a smaller wooden ball—as possible. According to Bill Craig, one of the Meetup's organizers, pétanque is a "growing phenomenon" at the park, with the group sometimes drawing nearly 20-30 athletes a game.
"Pétanque is a game that appeals to men and women, old and young, all races and ethnic backgrounds, [and] professional backgrounds," said the 43-year-old architect who launched the Meetup with West Philly residents Delphine Dahan and Matt Pagett in December. "The game is a bridge of sorts that links a very wide variety of people who would otherwise probably not interact with each other."
When West Philly Local stopped by Clark Park on May 26 to check out the game, we found a diverse clutch of 12 pétanque players sectioned into three games laughing and engaging in light-hearted repartee while focused keenly on their next move. The social banter—meets—competitive spirit is due in large part to the sport's pace and close proximity, said Craig, allowing a "nice sense of friendship and community" to form.
"I haven't really been able to pinpoint why, but pétanque has a beguiling ability to relieve stress and allow one to relax," he said. "It seems to be the perfect combination of cerebral and physical, not excessively taxing in either way but sufficiently engaging and demanding to be consistently stimulating and enjoyable."
According to Craig, the organizers hope to establish an official Philadelphia pétanque club in the near future, joining other large metropolises like New York, Austin and Portland—all of which have clubs listed as members of Federation of Pétanque U.S.A, the game's official governing body. There are also plans in the works to host a weekend-long local pétanque tournament in the fall, said Craig.
Philadelphia Pétanque meets every Sunday at 11 a.m. in Clark Park's north circle, and every Wednesday or Thursday evening at 6 p.m. on University of Pennsylvania's campus at 40th and Walnut Streets. To join or RSVP for a game, visit http://www.meetup.com/PHILADELPHIA-PETANQUE.
– Annamarya Scaccia