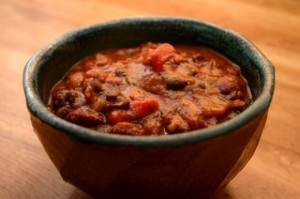 Here's another great event for the whole family happening this weekend in the neighborhood. The University City Arts League (4226 Spruce St) invites friends and neighbors to their 4th annual Chili Bowl event that will be held on Sunday, Apr. 7, from 1 – 5 p.m.
As always, the UCAL staff will fill up bowls made in their pottery studio with different versions of delicious warm chili, veggie and meat, provided by nine local restaurants: Atiya Ola, Distrito, Gold Standard Café, Green Line Café, Guacamole Mex Grill, Harvest, Honest Tom's, Milk and Honey, and Powelton Pizza. Once again, Greg Salisbury, head of SOOP catering, will be creating meat and vegan chili and Yards Brewing will be supplying beverages.
Sounds great, right? All you have to do is to buy a beautiful hand-crafted chili bowl and you can eat all the free chili you want. And if you bring your kids, they all will eat free when their parents purchase a bowl! After you try all the chili you can vote for the best chili-maker in the neighborhood.
"This is a really fun event," says Noreen Shanfelter, Arts League executive director. "It's great for the whole family. We'll have music and face painting for the children to enjoy."
This event benefits the UCAL Pottery Studio. It will help cover the expenses of a new, third kiln that was recently added to increase capacity at the studio and new lighting.
Pottery is the most popular of all courses at the Arts League and is available for children, aged 5 to 12 after school Monday to Friday, and for adults on the weekends and on several weeknights.
For more information contact the Arts League at 215 382 7811 or visit www.ucartsleague.org.