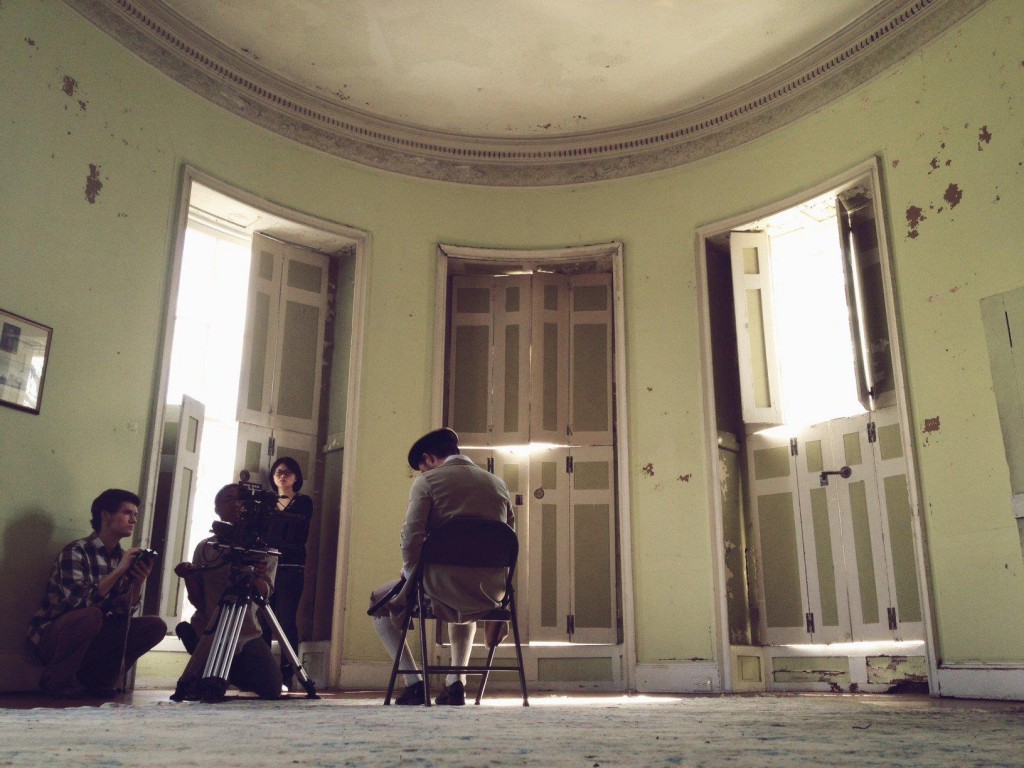 Less than two weeks are left before the Indiegogo fundraising campaign for A Man Full of Trouble, writer/director Michael Johnston's dark comedy about a suicidal Alexander Hamilton reenactor, comes to a close, and it's under $300 shy of $7,000.
Money raised for the West Philly-based indie short (view trailer below), which serves as Johnston's thesis project for Temple's MFA program, will fund the bulk of production costs, including equipment and location rentals, and costume fabrication by Regalia Costumes, said A Man Full of Trouble's producer, David Leith Fraser. The total budget, which ranges from $12,000 to $14,000 depending on the final Indiegogo amount, is also funded by a $4,500 Temple University Grant, and a $500 Allied Pixel gift certificate Johnston received with his 2013 Media Film Festival's Allied Pixel Silver Award for his previous film, Irina. A Man Full Trouble is slated for completion this fall.
A Founding Father and one-half of one of the first sex scandals in American politics, Alexander Hamilton makes for mysterious and complicated anti-hero. A Man Full of Trouble explores his inexplicable life through the eyes of Nick Crane (the aforementioned suicidal reenactor), who is "fighting to keep Hamilton's voice relevant in Philadelphia, a city dominated by Benjamin Franklin, Thomas Jefferson, and George Washington." And in the midst of this battle, Nick unknowingly reenacts Hamilton's affair with Maria Reynolds through his relationship with fellow reenactor, Isabella.
"Michael is fascinated with Philadelphia's history and architecture. He wanted to write something that was specific to the city. Hamilton's affair with Maria Reynolds, which took place in Philly, and Hamilton's tragic end provided the perfect back-story for creating the film's dark-comedic tone," Fraser told West Philly Local. "The film examines one man's conflict and the ending of the film will elicit different responses from different people. If I had to choose one, I would say the film asks that we study and preserve our history."
The majority of the project will be filmed at The Woodlands Historic Mansion, Cemetery and Landscape, which was originally purchased in 1735 as a 250-acre swathe on the Schuylkill River's west bank (today, the estate, overseen by The Woodlands Trust for Historic Preservation, consists of 53 acres nestled between S. University Ave and 41st Street south of Woodland Avenue.) Other filming locations include Independence Hall, the Second Bank of the United States, and Society Hill.
According to Fraser, money allocated for filming on the cemetery grounds will go towards restoration efforts on the Mansion. The premiere party for A Man Full of Trouble will also be held at The Woodlands, planned for some time in late fall, and double as a fundraiser for the historic landmark.
– Annamarya Scaccia
Indiegogo: A Man Full of Trouble from Michael Johnston on Vimeo.