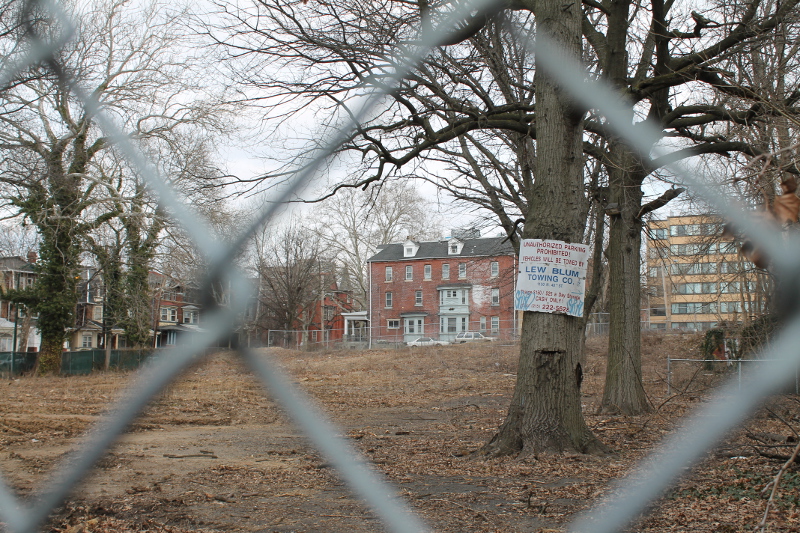 A New York-based property developer is hoping to build a 92-unit residential building on the large vacant lot at the corner of 43rd Street and Baltimore Avenue (pictured), across from Clark Park.
The property owner, Clarkmore LP, is associated with Thylan Associates Inc., whose properties include the University of Pennsylvania-run independent housing complex for the elderly, LIFE UPenn, at 4508 Chestnut St., the Bailey Building at 1218 Chestnut St. and the Biddle Building at 1217 Sansom St. The company also owns upscale condos at 1111 Locust St. and the Heid Building, 325 N. 13th St., which houses lofts.
The conditional zoning permit, granted on March 11, confirms that the developer meets some basic requirements for construction, but does not give a green light for construction.
A 17,600 square-foot structure and the plot, which is a little over an acre, was purchased by Thylan in 2008 for $3.5 million. The building was demolished soon after. The building had most recently housed a women's shelter. In the past it had served as a nursing home and before that a private boarding school.
The proposed project will also include 36 "bicycle spaces" and 6 parking spaces.
Anyone who opposes the permit for the project can file an appeal to the Zoning Board of Adjustment. For instruction, call them at 215-686-2429.