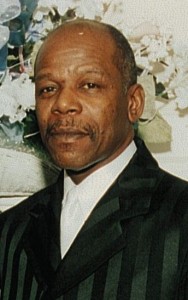 We are very sad to report that Oliver "Ali" Robinson, a longtime activist and community organizer in the city, died on Monday. He was 64.
Back when he was a little boy growing up in Southwest Philadelphia, scrambling through the pews of Mount Zion Baptist Church, Oliver Robinson was simply known as "Ollie."
As the youngest of five, he worked hard to live up to the examples set by his older brothers, especially the late state Sen. Hardy Williams, who would go on to have a pioneering legal and political career that included a run for mayor in 1971 that would inspire other African Americans to seek public office.
Robinson worked to apply the teachings of his mother, Frances "Mom" Williams, renowned for championing "the people's business." And as the Civil Rights Movement evolved from sit-ins and picket signs to more confrontational politics, "Ollie" became known as "Ali."
"He was a stalwart in our family and our organizational structure, a fellow civil rights warrior," said state Sen. Anthony "Hardy" Williams, Robinson's nephew. "But I realized it was more important to him to be my uncle than anything else."
Family members say Robinson watched "Mom" Frances counsel and speak out for neighbors in need, which helped spark his interest in social justice.
Robinson graduated from West Philadelphia High School in 1967 and went on to attend Howard University.
He joined the 1971 mayoral campaign against Frank Rizzo his big brother Hardy waged that shook up party politics. Robinson worked on a variety of campaigns, including the elections of Mayor W. Wilson Goode Sr. in the 1980s and state Rep. Jordan Harris just last year.
"He was an architect. Even before there were computers, Ali was the best Election Day statistician in the city," said Lynette Brown-Sow, who worked as teen on the Hardy Williams mayoral campaign. "He had a gift."
Robinson also worked at the Crisis Intervention Network, where he was part of the team that led one of the most effective youth violence intervention programs in the city's history. He co-founded the People's Institute, which helped provide services to young people. He also applied his skills as a community organizer for Model Cities of North Philadelphia and remained an active member of the Kingsessing Community Association.
Working from a philosophy that an informed people are an engaged people, he founded and published the Southwest News, which published uplifting stories by and about neighbors.
In 1992, the Rendell Administration honored Robinson with the Philadelphia Pride Award.
"He gave a lot to the community, but at the end of the day, he was still a dad and a granddad," said his daughter, Kya Kamil Robinson.
Robinson is survived by his other daughter, Afrika Mona Strong; his brothers, Jimmy Williams, Freddie Williams and Teddy Williams; his sister, Barbara Williams; his grandchildren, Alexus and Ervon Schultz Jr. and several of nieces, nephews, cousins and other loving friends.
A viewing will be held Friday from 9 to 11 a.m. at Mount Zion Baptist Church, 1411 S. 50th St. Funeral services will immediately follow. Internment will be at the West Laurel Hill Cemetery, 225 Belmont Ave. in Bala Cynwyd.